Choosing The Right Sewing Fabric For Your Project Really Does Make A Difference!
Find Great Coupons for Craft Supplies at Coupon Gravy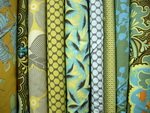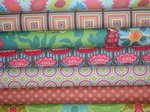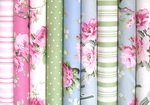 Choosing sewing fabric that is just right is key.
Now that you have taken those sewing lessons, purchased your perfect sewing machine and obtained some nice patterns for those outfits that you want to make, it is time to put your project together.
Believe it or not, choosing the right material does make a difference to a sewing project. One might think that you can just choose something that you like and sew it up into a fabulous garment. Well….not quite. Creating a nice outfit that you will be proud to wear is determined by the material that you choose.
I remember my first sewing projects when I began to sew again after so many years away from the craft. My first projects were a disaster! In spite of having purchased a nice sewing machine and knowing how to use it, in spite of having chosen some fabulous patterns, my initial outfits were terrible! Why, because I did not carefully consider my choices and whether they were appropriate for the garments that I was making. Oh sure, I read the recommendations on the back of the pattern package, and ignored them. I thought that it could not possibly make that much of a difference what I chose. Boy, oh boy was I wrong. I had apparently forgotten a whole lot about sewing since my teenage years.
So, in essence I wasted time and money, only to produce garments that were basically unwearable.
I had to learn the hard way that those suggestions on the back of the package are put there for a reason. The folks that put them there have undoubtedly tested what they are suggesting to see which ones make the best garments.
However, the choices on the back of the package are limited. After all, I did want to have some say about what I use for my projects. So, I realized that I needed to learn more about the material that I was choosing. First, I began paying attention to those recommendations that are on the back of the pattern package.
After carefully reviewing books that I found online, I finally chose several books that I still use and cherish today. These books have helped me to become better at making my choices.
Here are just a few of the sewing fabric facts I learned Another great tool that I have found is the sewing video series at threadsmagazine.com which has a great short video There are also other videos that teach you how to sew fabric. This is an excellent free sewing videos series.
After finally learning to choose the right sewing fabric for my projects, I was more comfortable going to the stores to purchase them.
Have you ever wondered about more than where to purchase sewing fabric? For example, what are the characteristics of a particular material that makes it suitable for a particular project or not suitable?
What type of fiber is it made of, how is it made, is it woven, or knitted, for example?
What type of needle should be used for sewing your material?
These are just a few of the pieces of information that we should know before choosing a material for a project.
Below is a list of some of the most common fabrics used and some basic information about them.
Acrylic
Activewear Fabric
Boucle
Brocade
Burlap
Canvas
Chenille
Chiffon
Corduroy
Cotton
Denim
Double Knits
Faux Fur
Felt
Flannel
Fleece
Gabardine
Gingham
Herringbone
Home Decor
Houndstooth
Interlock Knit
Jacquard
Lace
Lame
Leather
Linen
Madras
Muslin
Nylon
Percale
Pique
Plaid
Polyester
Rayon
Sateen
Satin
Seersucker
Sheer
Silk
Suede
Tapestry
Terrycloth
Tweed
Twill
Velour
Velvet
Vinyl
Wool

Some really great reference books on the above materials are:

Purchasing Sewing Fabric
Depending on the quality and type of material, purchasing for any project can be expensive. It is a good thing that there are always sales at the sewing centers. Fabric and Sewing Resources Websites
If you are looking for quality designer fabric for a home decor or upholstery project, visit Digby and Willoughby for an extensive selection of home decor fabric Once you know what to use for what project, it is definitely worth it to take advantage of the sales, either online or at the sewing centers.
So choosing the right sewing fabric for a project definitely does make all the difference.
For some great prices for your sewing needs click here on Fabric.com... Wholesale to the public!
Once you have chosen the material for your project, there are certain supplies that you will need to complete the project. For information about the sewing notions, tools, and equipment needed to work with your material, All the information needed about how to sew for a career, a hobby or fulfilling your dream of making your own garments and anything else imaginable. The site offers valuable information for beginners as well as seasoned seamstresses, including information about fabrics and thread at Designed-To-Sew.com

click here to view the sewing notions home page

To Tailoring Alterations Home Page
Return to Sewing Home Page