Cording Foot – Neat And Easy Alignment For Single Or Multiple Cords
The cording foot is generally referred to as the multi-cord foot. This foot comes with a variety of holes for insertion of cording used in decorative stitching and embellishing, which is why it is often called the multi-cord foot. These feet come with as few as 3 holes or as many as 9 holes. This is also a foot that nearly every sewing machine manufacturer offers. This foot can be used to create and attach cording or to attach pre-made cording.
Some manufacturers also have a multi-purpose foot called the cording/piping foot with one groove on the bottom of the foot to accommodate cording or piping.
These feet can either be made of metal or plastic, once again depending on the sewing machine manufacturer.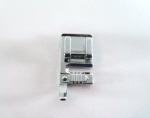 Cording Feet

What is Cording?
Cording is the technique of binding or connecting an uncovered cord embellishment to a fabric. It is different from welting, which is covered cording, meaning that the cord is encased inside of fabric, then attached to another fabric, usually for a heavy duty project, a pillow edge for example for a decorative effect.
Cording is also different from piping which is a lighter weight covered cord, placed inside of a seam or along a project edge as a trim on a garment. These are generally home décor techniques, but cording and piping can be used to decorate garments.
There are also piping and welting feet, which have grooves on the underside of the foot, and work in a similar manner, but works differently than multi-cording feet.
For a short video about the 3 groove cording foot, click here on homesewing.co.uk
Some excellent references about presser feet are:
• The Sewing Machine Attachment Handbook by Charlene Phillips
• Fancy Footworks – Book and/or DVD by Nancy Zieman
For information about other sewing machine presser feet, click on the links below.
Curve Master Foot
Clear Embroidery Foot
Sewing Machine Feet Home Page
Sewing Machines Home Page
Sewing Home Page