The Blind Hem Foot – Creating The Perfect Invisible Hem
The blind hem foot is an excellent advancement in the sewer's arsenal for creating professional looking hems. The nice thing about this foot is that it is generally one of the feet that comes standard with most sewing machines.
It takes a little practice to learn to use this presser foot correctly, but once mastered, beautiful, professional looking nearly disappearing hemlines are created, just like in ready to wear. The blind hem is generally used for home décor projects such as drapes, but is also a nice hem for garments.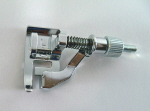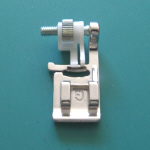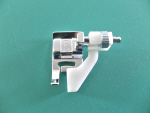 Blind Hem Feet For Different Sewing Machines

One of the keys to using this foot properly is to line up the needle so that the zigzag portion of the stitch barely touches the folded hem, while the straight portion of the stitch ends up in the other half of the fabric.
The other key to a perfect blind hem stitch is to fold the fabric correctly. The fabric is going to first either be serged on the raw edge or the raw edge is folded under, based on your preference for finishing the raw edge.
Then with the fabric wrong side up, and showing the serged or folded hem, the hem is tucked under the wrong side of the fabric with a small portion of the folded or serged hem peeking out, about ¼ inch of the hem showing from under the wrong side of the fabric. The guide of the foot is placed under this folded edge and the foot is adjusted using the screw on the foot to position the needle.
This is definitely a procedure that must be seen and cannot simply be described. For a nice video demonstrating the technique, click here on the YouTube video to see the blind hem foot stitch technique
For an article on the blind hem stitch, click here on the link to Sew 4 Home
Some excellent references about presser feet are:
• The Sewing Machine Attachment Handbook by Charlene Phillips
• Fancy Footworks – Book and/or DVD by Nancy Zieman
For information about other sewing machine presser feet, click on the links below.
Braiding Foot
Bias Binding Foot
Sewing Machine Feet Home Page
Sewing Machines Home Page
Sewing Home Page