The Overlocking Foot – Providing Serger Stitches In A Sewing Machine
The overlocking foot has many names; it is also called the overcastting and the overedge foot. No matter what this foot is called, it is the sewing machine's answer to providing stitches like a serger.
Why such an interest in creating serger type stitches on a sewing machine? The serger is a marvelous invention for finishing the edge of a sewing project to prevent the fabric from unraveling.
Why not just purchase a serger one may ask? In all honesty many sewers are intimidated by the serger and think that it is just too complicated to thread, and many other sewers simply don't want to move from one machine to another, they would rather do it all with one machine, as a result the overlocking foot is the answer to their prayers.
This foot is used with the overlocking stitch that is part of the standard zigzag stitch that comes on sewing machines.
Of course this stitch still cannot compete with using a serger, but some sewing machine manufacturers have begun producing more complex attachments that can now give a serger a run for the money, by trimming the fabric as a serger would as it overocks.
The ability to overlock the edge of fabrics can be the difference to a professional looking versus a homemade looking garment or home décor project; therefore, an overcastting foot is a great additional to any sewer's arsenal.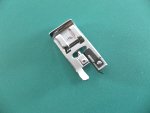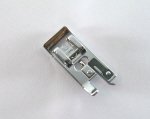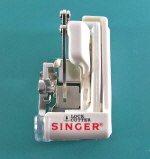 Overcasting, Overlocking, and Sew and Serge Foot
For a nice, short video on using the overlocking foot also called the overcastting foot click here on the link to sewingmachinesales.co.uk
For some nice pdf instructions on using the overcastting foot, click here on the link to sewingmachinesplus.com
Some excellent references about presser feet are:
• The Sewing Machine Attachment Handbook by Charlene Phillips
• Fancy Footworks – Book and/or DVD by Nancy Zieman
For information about other sewing machine presser feet, click on the links below.
Pintuck Foot
Open Toe Foot
Sewing Machine Feet Home Page
Sewing Machine Home Page
Sewing Home Page