Satin Stitch Foot – The Foot For Decorative And Applique Stitching
The satin stitch foot is used for what is known as satin stitching, and also other decorative stitching. This is an embroidery stitch where the stitch is worked close together in parallel across the fabric without any spacing, covering the entire area that it is used in. The stitch when completed is designed to look like satin, thus its name. This stitch is originally a hand embroidery stitch, which has now been adapted for the sewing machine.
The foot itself has a groove on the underside of the foot, allowing these dense stitches to pass easily underneath the foot. Satin stitches are generally found on just about all sewing machines as standard stitches. These stitches can be customized to fit a desired design by adjusting the length and width of the stitch to make these stitches look different.
The stitches created by this foot are the backbone of appliqué projects for machine appliqué and machine embroidery. The sewing machine uses the zigzag stitch to create these designs. In addition, for very light weight fabrics, stabilizer should be used on the back of the fabric.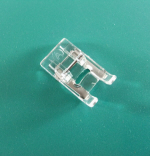 Satin Stitch

For a nice, short video on using the satin stitch foot, also called the nonstick decorative stitch foot click here on the link to homesewing.co.uk
For some pdf instructions on using a similar foot, the open toe foot, click here on the link to sewingmachinesplus.com This site also has some nice projects for this foot. The open toe foot, like the satin foot is also used for appliqué stitching.
Some excellent references about presser feet are:
• The Sewing Machine Attachment Handbook by Charlene Phillips
• Fancy Footworks – Book and/or DVD by Nancy Zieman
For information about other sewing machine presser feet, click on the links below.
Teflon Foot
Ruffler Foot
Sewing Machine Feet Home Page
Sewing Machine Home Page
Sewing Home Page