Circle Stitch Attachment – A Unique Tool For Creating Circular Shapes
The circle stitch attachment is a unique tool that makes it possible to sew, as its name implies-circular stitches. The circle can range from 5/8 inches to 2 inches. The attachment is a versatile tool allowing the sewer to create overlapping circles and to mix different stitches.
The ability to sew circles on fabric is a very desirable feature for many sewers. Circles can be created as part of an embroidery project or as part of appliqué quilting, or simply as decorations to a garment. The attachment is also good for creating circles on handcrafted bags, circles on sweaters and creating coasters, just to name a few of its many uses.
This special tool attaches to the presser foot, with some additional attachments to make the tool more secure on the shank. Some of these circle attachments may require a special presser stopper screw or a special lever to attach the circle stitch tool to the shank that holds the presser foot.
The circle stitch tool, which actually creates circles, should not be confused with the circular embroidery guide, which actually embroiders in a circle using decorative stitches.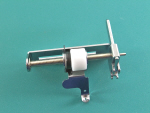 Circle Stitch Tool

This is a relatively new tool that does not exist for every type of sewing machine, but most machines do have an accessory circular embroidery guide that can be purchased. To view an image of another type of circle stitch tool, and find out more information about whether there is a circle stitch attachment to fit your sewing machine, and how to obtain it, click here on bing.com images
Some excellent references about presser feet are:
• The Sewing Machine Attachment Handbook by Charlene Phillips
• Fancy Footworks – Book and/or DVD by Nancy Zieman
For information about other sewing machine presser feet, click on the links below.
Clear Embroidery Foot
Button Sewing Foot
Sewing Machine Feet Home Page
Sewing Machines Home Page
Return to Sewing Home Page