Creating Sewing Areas to Meet Your Individual Needs
Dedicated sewing areas are crucial to having a pleasant and productive sewing experience. It does not matter whether the space is large or small.
Naturally we would all love to have the perfect sewing area, an entire sewing room if possible. However, we may not all have either the space or the means to create such a wonderful space. So, we have to work with what we have.
Whatever size area we have, whether it is a corner of a room or an entire room, the space should be well lit, quiet, and well organized. Having such a space reduces the amount of error and project re-work that can occur in a disorganized, noisy, poorly lit, and chaotic environment.
Have you created your own great sewing space? Care to share? Click here to share the story of your great space.
Sewing can be a very peaceful stress relieving activity if the sewing environment is right. There should be a place to work with and store the sewing machine and serger, and any other machines that will be used, such as embroidery or quilting machines. There should also be places to store fabric, and notions and supplies. The area should also have somewhere for pattern storage. All of these things should also be within easy reach or within walking distance in the room or the area. The space also has to accommodate ironing and pressing equipment, and a fitting area, especially if you are sewing for other family members or for a home based sewing business.

Need some tips on decluttering that great potential sewing space or an existing space? Get great tips right here.

This brings up the other factors to consider in the design of the space. It should be considered whether the space is going to be shared with another sewer; perhaps a family member or whether the sewing space is part of a home based sewing business. It should also be considered whether the space is for general sewing or quilting or even for machine embroidery. The organization and the design of a sewing area is different depending upon the usage that the room will be put to.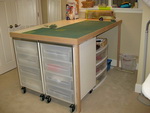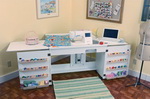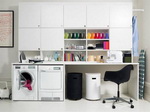 If you are quilting as well as sewing or if the space is just going to be a quilting area, you have to consider whether you will have a quilt frame or even a long arm quilting machine in the space. If the space is used for machine embroidery, a different type of table may be needed and not as much storage needed, except for embroidery threads, and embroidery hoops or digitizing equipment.
There are several books on the market that address setting up sewing spaces. One such book is Setting Up Your Sewing Space – From Small Areas to Complete Workshops by Myrna Giesbrecht. This is another of my fabulous finds from amazon.com So, just what type of sewing furniture and equipment is should be included in your sewing space? Click on the links below.
Sewing Equipment - for other types of equipment for sewing areas


Sewing Furniture - for chairs, tables and cabinets to create a unique space

Do You Have A Great Sewing Area or Sewing Room? Tell Us About It
Do you have an area where you do your sewing or quilting or embroidery? Tell us about it.

Whether it is a corner alcove or an entire room it is your unique sewing space.

So, tell us how you put your sewing space together. It might just get someone else's creative juices flowing to help them create their own unique sewing area.


Sewing Machine Tables
Kids Sewing Home
Sewing Notions Home
Sewing Home Page