Teflon Foot – Also Called The Non-Stick Foot
The Teflon foot is an indication, that Teflon is not used just for pots and pans. This foot like the roller foot is designed to prevent fabrics such as leather and vinyl, plastic, suedes and ultrasuede from sticking to the bottom of the foot and to the foot plate of the sewing machine. This foot doesn't need rollers because it is made of or coated with, what else, Teflon, a material well known for its non-stick properties in pots and pans, how clever!
This foot allows fabrics that are sticky to glide right under the foot. The foot unlike other feet has a distinctive look, like that of a white plastic material.
This foot is also good for sewing on zippers, allowing the foot to glide right over the zipper teeth.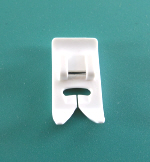 Teflon Presser Foot

For some information in pdf form about how to use the Teflon foot click here on the link to sewingmachinesplus.com There are also projects that this foot can be used with
For some information on sewing rubber material with a Teflon presser foot, click here on the link to ehow.com
Some excellent references about presser feet are:
• The Sewing Machine Attachment Handbook by Charlene Phillips
• Fancy Footworks – Book and/or DVD by Nancy Zieman
For information about other sewing machine presser feet, click on the links below.
Walking Foot
Satin Stitch Foot
Sewing Machine Feet Home Page
Sewing Machine Home Page
Sewing Home Page