Pintuck Foot – Taking The Guesswork Out Of Creating Delicate Tucks
The pintuck foot takes the guesswork out of creating rows of delicate pintucks for embellishing fine sewing. This foot is grooved on the underside of the foot, with five, seven or as many as nine channels that are made for creating pintucks. The foot is used with a twin needle also called a double needle. This foot is generally used for what is called heirloom sewing.
The stitch is generally a straight stitch, with a stitch length of 2.0-3.0, and a twin needle size of 1.6, 2.0, or 2.5mm. Pintucks are generally sewn on light to medium weight fabrics, with the tuck in the fabric being created as it passes under one of the grooves. The rows of pintucks are parallel, evenly spaced rows. The thread is a fine also called lightweight thread, and unlike using a single needle, the twin needle uses two spools of thread.
The pintucking foot is not just used for creating pintucks, but can also be used for a variety of decorative stitches, such as fagoted stitches, which involves connecting two pieces of fabric, leaving an open space, then decorating that open space with open decorative stitches.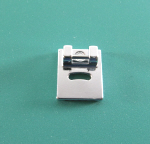 Pintuck

For some brief instructions in pdf format on how to use the pintuck foot click here on the link to singerco.com
Here is a nice short video on using the pintuck for five, seven or nine grooves.
Some excellent references about presser feet are:
• The Sewing Machine Attachment Handbook by Charlene Phillips
• Fancy Footworks – Book and/or DVD by Nancy Zieman
For information about other sewing machine presser feet, click on the links below.
Quarter Inch Foot
Overlocking/Overcasting Foot
Sewing Machine Feet Home Page
Sewing Machine Home Page
Sewing Home Page