Rolled Hem Foot – Creating An Elegant Hem
The rolled hem foot for many is the same as the narrow hem foot, but in many ways it is different. For some of us a narrow hem is a flat hem that is only a few inches wide and a rolled hem is a hem that has been turned under a few times, thus a true rolled hem.
It may just be a matter of semantics for some sewers, but for others there really is a difference. The foot may be the same foot used for both types of hems or it may be different. In other words a true rolled hem is when the edge of the fabric is rolled, and this is not a flat hem.
However, like the narrow hem foot, the rolled hem is designed to sew light to medium fabrics, trying to use this foot on heavier fabric is cumbersome and would add an unsightly bulk to heavier fabrics.
How is the rolled hem created?
Using about one inch of fabric, a 1/8 inch hem is pressed under, then the fabric is folded again and pressed, creating about ¼ inch of turned up fabric
1. About ½ inch of the folded fabric is stitched, just enough to act as a guide for the rolled hem before the fabric is inserted into the scroll of the foot
2. Next with the needle still in the fabric, the presser foot is lifted, and the fabric is inserted into the scroll of the foot
3. The fabric continues to be sewn for a perfect rolled hem
The key is to give the fabric a start by rolling it by hand and stitching a few inches, then the rolled hemmer completes the task of rolling and sewing the hem.
This is a great foot to use for sheer curtains as part of home décor, light weight garments, and heirloom sewing.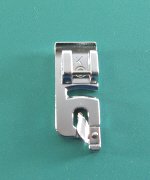 Rolled Hem Foot

For a nice short video demonstration of the rolled hem foot, click here on the link to sewingmachinesales.co.uk
For a nice discussion of how to create a rolled hem, click here on the link to craftstylish.com
Some excellent references about presser feet are:
• The Sewing Machine Attachment Handbook by Charlene Phillips
• Fancy Footworks – Book and/or DVD by Nancy Zieman
For information about other sewing machine presser feet, click on the links below.
Roller Foot
Pintuck Foot
Sewing Machine Feet Home Page
Sewing Machine Home Page
Sewing Home Page