Taking Sewing Lessons Does Not Always Mean Sitting In A Classroom!
Find Great Coupons for Craft Supplies at Coupon Gravy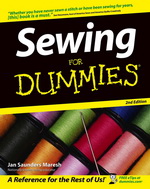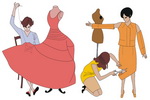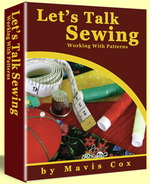 When the words sewing lessons come to mind, one often thinks of something formal.
When I decided to begin sewing again after not having sewn since I was a teenager, I realized that I needed a refresher course.
I learned to sew as an eight year old from my mom. But, mom is no longer an option, since she is now in her 80's. She does not have the steadiness of hand or the vision that she once had. So, I began to look for other ways to refresh my skills.
I also realized that I am a different person than I was as a little girl and even as a teenager. As a middle aged baby boomer, I don't have the patience, time or interest for the kind of one on one instruction like the kind that I received from mom.
Friends and other family may be an option for some, but I discovered that friends and others were not an option for me.
I also did not want to pay an instructor just to reacquaint me with something that I learned to do as a child. Once again, this may be an option for some, but not for me.
I like to learn at my own pace and in my own space and when I have the time.
Have a great story about how you learned to sew? Click here and share your story
There are many creative options that can be considered sewing lessons, click here for a great sewing lessons option from a sewer with decades of experience
Lessons for you on this site
I have started adding sewing lessons for you on this site. Check out the first one here.
Other resources
Find out about more of these options by clicking on these other links.
Books and e-books
Videos and DVDs
PBS Programs
Sewing Lessons Instructors
Schools for Sewing
Downloadable Sewing Reference Guidelines
One reference site that I came across online that has much useful information to offer is produced by the Sewing & Craft Alliance. One of the features that I like about this website is the free downloadable "guidelines" that can be printed out in pdf format. This is an easy way to create one's own e-book. The site also has some general information about sewing and is a good place to start. There is even information on how and where to find an instructor for sewing lessons.
Take a look at sewing.org For some great hands on information about learning sewing, take a look at sew-stitch-learn.com

Web Based e-Sewing Lessons
Do you love the web or spend a lot of time on the web? Would you like to learn to sew on web T.V.? Then a great web based series is Sandra Betzina and Ron Collins Power Sewing site. This webinar sewing series is subscription based, but at a reasonable price. This is a great site for beginners as well as those that already know how to sew. Click on this link for Power Sewing

For another great web based site for e-sewing lessons, click below on eSewing Workshop.com.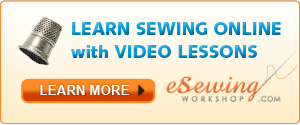 This site actually has free web e-sewing lessons right there on the site as part of a series of sewing classes online and you can also become a subscriber for more sewing training benefits. Online web based sewing classes are another great alternative to sitting in a classroom allowing you to go at your own pace, as well as the ability to replay classes if more time is needed on a particular sewing topic.
There Are So Many Fun Ways To Learn To Sew - How Did You Learn?
Do you have a great story about how you learned to sew? Share it!

I loved learning to sew, and learned as a little girl of eight. I think that everyone should learn to sew, and there are so many ways to learn. No one method works for everyone. What kind of sewing lessons worked for you?

Sewing is no longer just a necessity as in the days of pioneer women or with the present economy maybe it is becoming a necessity once again.

What tips do you have for others that want to learn to sew?


Teaching Kids to Sew
Sewing Machines Home Page
Return to Sewing Home Page