Sewing Lessons Using Sewing Videos and DVDs Are The Next Best Thing to Mom!
I must admit that being a visual person, I found my preference for a sewing instructor on sewing videos and DVDs. I really like the convenience of this particular media, because you can stop them or pause them and come back to them. It is also a convenience being able to play sections of them over and over again until you master a particular skill that you want to learn. I think that these types of lessons are one of the easiest to fit into your own schedule and you don't have to continue paying the instructor for those repeat lessons.
With sewing videos and DVDs there is the opportunity to be taken through every step of the sewing process, from what sewing supplies to have on hand, to what supplies are needed for a real project, how to set up a sewing machine, how to fit and customize patterns, all the way to the finished product. The single DVDs may not go through an actual project or it may be a small or simple project, such as making an apron. However, even with a small project you can repeat the lesson until you grasp it.
Of course there are not nearly as many out there as there are books on sewing, but I found what I think are some good ones. The sewing centers carry some DVDs, but the largest selection is online. The Palmer/Pletsch International School of Sewing carries a number of sewing videos and DVDs that can be found at palmerpletsch.com Some of their offerings include sewing, serging, and fusing lessons.
Another series that is carried in the sewing centers is the Hip Line Media series that carries instruction in basic home décor and making handbags to name just a few. These can be found at hiplinemedia.com For a great selection of sewing DVDs that you can rent, click here on the link to the SmartFlix website category Sewing
But, if you really want that sewing school experience, I have to say that the best set of DVDs that I found and used to refresh my own sewing skills is the You Can Make It Learn to Sew Series (YCMI). This is a complete seven DVD set, which the instructor refers to as levels one through seven with each level building on a skill learned from the previous lesson. There is a sewing project for each of the lessons requiring increasing skill. The instructor is a professional sewing teacher. For anyone who wants comprehensive instruction on learning to sew, this would be it. These instructional DVDs can be found at the You Can Make It website at youcanmakeit.com or at amazon.com

Level 1 through Level 7


They can be purchased as single lessons at Amazon or as single lessons or an entire series at the You Can Make It website. These lessons can also still be purchased in VHS format. These sewing Videos and DVDs are a great way to learn to sew in the privacy of your own home.

There is also a comprehensive sewing DVD series offering from a sewing expert in New Zealand by the name of Marlene Kuba, who along with her partner Cheryl Denton produced an 11 hour Essential Sewing Skills set of DVDs which takes you step by step through the sewing process. Click here on the link to Sewing With Confidence at u2cansew.com to see if these sewing DVDs would be for you. They can be purchased as single DVDs or as the entire set. If one really wants to learn to sew at home, there really are offerings for everyone.
An interesting free site is graspr.com This site is interesting because it carries how to sewing videos from independent contributors, meaning participants send in their instructional offerings and anyone can view them for free. This is not merely a sewing site though, but offers other instructions as well. The sewing material is actually located on the arts and crafts menu.
Although the choices are more limited than with books, there are some options out there, for those that prefer that sewing experience almost like mom's.
For a great web based site for e-sewing lessons, click below on eSewing Workshop.com.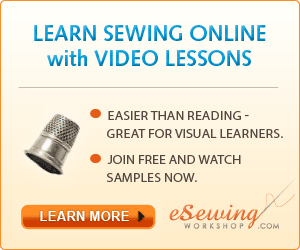 For other great media for learning to sew, click the links below.