Sewing Machine Feet – What Are They And What Are They Used For?

Find Great Coupons for Craft Supplies at Coupon Gravy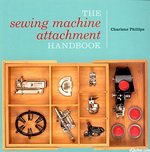 Sewing machine feet are the attachments that exert pressure on the fabric as it is fed under the needle and moved along by the feed dogs. Sewing machine feet also provide the personal touch to your sewing project.
Depending on the whether the machine is mechanical, electronic or computerized, there are larger and larger numbers of feet available as the complexity of the sewing machine increases. There are different types of presser feet for utility garment sewing, home décor sewing, crafting and decorative sewing, heirloom sewing, quilting, embroidery, and serger sewing.
The huge variety of presser feet combined with the multitude of sewing stitches is what puts the ease, creativity, and fun into any sewing project. With so many presser feet and stitches to choose from, it is very easy to create a unique project without duplicating what someone else has done.
Have a favorite sewing machine foot and want to share your story? Click here to share
The different sewing machine manufacturers have certain presser feet in common, as well as presser feet that are unique to their brand of sewing machine. The following list is by no means a list of all of the presser feet that exist among the sewing machine companies, but they are some of the more common presser feet that one can purchase for one's particular type of sewing.
Presser Feet
All Purpose
Beading
Bias Binding
Blind Hem
Braiding
Buttonhole
Button Sewing
Circle Stitch Attachment
Clear Embroidery
Cording
Curve Master
Darning
Edge Joining
Fringe
Gathering
Hemmer
Invisible Zipper
Open Toe
Overlocking/Overcasting
Pintuck
Quarter Inch
Rolled Hem
Roller
Ruffler
Satin Stitch
Teflon
Walking
Zipper


For information about serger sewing machine feet click here on the serger parts page


For additional information about machine feet click here on the link to sew4home.com

Sewing Machine Basics
Threading Sewing Machines
Sewing Stitch Adjustments
Sewing Machine Repair
Sewing Machines Home Page
Sewing Home Page

Do You Have A Favorite Sewing Machine Foot?
Do you have a favorite sewing machine foot, and have you used it for some great projects? Share your story.