Sewing Notions And Supplies - What Are The Essentials?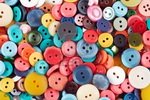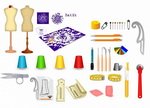 There are certain basic sewing notions and supplies that are essential for any sewer to have on hand.
By keeping basic notions and supplies on had you can be ready to begin a project as soon as the fabric has been purchased.
Here is a basic list:
Needles - for both hand sewing and machine sewing. There are different types of needles that should be used for different types of fabrics. For example, needles called sharps are used for general sewing, but needles called ballpoints are recommended for knits. For information on how to choose the right needles for a project click here
Thread – natural fiber threads for natural fiber fabrics and synthetic fiber thread for synthetic fabrics. Click here for information about thread and choosing the right thread for a sewing project
Pins – used for both sewing and quilt basting. Straight pins are for hand sewing, ball head pins are for general sewing, and safety pins and T-pins are great for quilting. For more information about the different types of pins used in sewing click here
Marking Tools - are essential tools that aide in accurate garment construction. Such tools include tailor's chalk and tracing wheels. For more information about what marking tools are and which ones to choose, click here
Measuring Tools - tools to help the sewer construct garments that fit through accurate measuring, such as tape measures, and sewing guages. For information about these measuring tools as well as others click here
Cutting Tools - tools for cutting sewing projects consist of scissors, shears, thread clippers and other tools. Each tool has a specific purpose. For information about different cutting tools for sewing, click here
Pressing Tools - tools to press our sewing projects are crucial to obtain professionally finished garments. One such tool is a good quality iron. To find out about other pressing tools, click here
Trims and Tapes - what do we mean by trims and tapes and how are they used? One type of tape is bias tape. click here to find out about bias tape and other trims and tapes Closures - closures consist of buttons, fasteners, and zippers, in many sizes, shapes and colors. Click here for more information of the different varieties of these closures
Other Sewing Tools - there are many key notions, tools, and equipment that do not fit into such categories as pins, needles or thread, such as the dress form. Click here for information about other sewing tools
For more information about these different notions some good references are:
• The Complete Photo Guide to Sewing - revised and expanded edition by Singer
• The Sewing Book – by Alison Smith
There are also some BBB (Better Business Bureau) accredited sewing notions and supplies sites online. Two of those that I came across are sewing supply warehouse.com and allcraftsupplies.com Having good quality sewing notions and supplies in good quantity is essential to sewing any project. Good sewing notions and supplies are relatively easy to acquire, it is simply a matter of finding good sales so that you can stock up.
For great deals on sewing supplies and notions click here on the Hancock Fabrics Homepage
Sewing Fabric Home
Sewing Areas Home
Sewing Home Page