Sewing Marking Tools – A Key To Accurate Garment Construction
Sewing marking tools are essential tools in the garment construction process. These marking tools are needed and should be used because they make the process of constructing the garment easier and more accurate.
Sewing patterns have symbols on them that aide in creating the garment. These symbols must be transferred from the pattern to the garment. Sewing marking tools also aide in the alteration of garments by allowing the alteration marks to be placed on the garment.
There are different types of marking tools that can be used with different types of fabrics. These marking tools are used to mark, tucks, darts, pleats and the location for pockets. The choice of which marking tool to use with what type of job; however, is often a matter of personal preference.
Some of these tools are:
Chalk Pencils
Chalk pencils also called dressmaker pencils allow for the placement of fine lines on fabric, and many of them have an eraser or brush so that the marks can be removed from the fabric.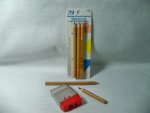 Chalk Pencils
Liquid Marking Pen
Liquid marking pens come in two types. There is one that washes out and one that fades after 48 hours. Those that wash out should not be used on fabric that show water marks. Also, pressing may set the marker, so the mark should be removed before pressing the fabric.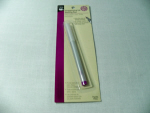 Liquid Marking Pen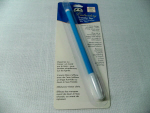 Embroidery Pen
Tailor's Chalk
Taylors chalk comes in two forms, as either a chalk wedge or as a pencil. These chalks also come in a range of colors. There is also a wax chalk that comes in either black or white and is used to mark wool fabrics.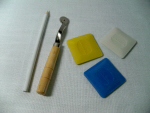 Tailor's Chalk Marking Set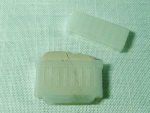 Tailor's Chalk
Tracing Wheel
There are two types of tracing wheels, those with a serrated edge and those with a smooth edge. The serrated edge wheel produces dots on the fabric and is suitable for most types of fabrics. The smooth edge wheel is best for delicate fabrics and unlike the serrated edge will not pierce more delicate fabrics. The smooth edge wheel creates a solid line.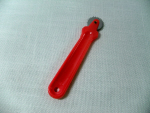 Tracing Wheel
Dressmaker's Carbon Paper
Dressmaker's carbon paper also called dressmaker's tracing paper is a specially waxed carbon paper that transfer's the tracing wheel's markings to the fabric. A color of tracing paper should be chosen that is close to the color of the fabric. Different brands of tracing paper have different instructions; therefore, the instructions for the particular brand that is purchased should be followed.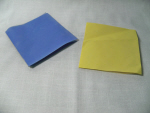 Dressmaker's Carbon
Some additional sewing references that provide information on marking tools are:
Reader's Digest New Complete Guide to Sewing and The Complete Book of Sewing from DK.
For some useful information about transferring markings to fabric using sewing marking tools click here on about.com

For great deals on sewing supplies and notions click here on the Hancock Fabrics Homepage
Sewing Measuring Tools
Sewing Pins
Sewing Notions Home