Sewing Measuring Tools – Tools That Help Create Garments That Fit
Sewing measuring tools are essential for pattern alterations and body measurements to ensure a good garment fit, measurements should be taken often and accurately. There are some key measuring tools that should be part of every sewing box.
Measuring Tools
Tape Measure
A good, flexible tape measure of at least 60 inches is needed to take body measurements throughout the garment construction process. Although the tape measure should be flexible, it should be stretchy. It will be used not only to measure garments, but to measure creations for home décor projects as well. This tool is also used for pattern adjustments.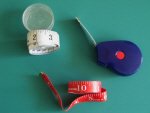 Measuring Tapes

Sewing Guage
This small ruler has a sliding guide and is about six inches long. This guage is used for measurements at hem lines, button holes and areas where other small measurements require checking, such as pleats and tucks. The guage is usually metal.

Sewing Guage

Rulers
A ruler measuring 12 inches or even 18 inches, either clear or solid is a useful tool to have for measuring and drawing straight seam lines and cutting lines. Clear plastic rulers are generally used for quilting and pattern creation and alterations. A clear ruler is also a good tool for marking buttonholes.

Rulers

Yardstick
A yardstick made of hardwood or metal is used for marking hemlines and checking grainlines.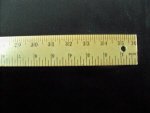 Yardstick

There are also some specialty measuring tools used for pattern making and alteration. Click here for information about these specialty measuring tools
For information about quilting measuring tools, click here for these specialty quilting tools
For more information about measuring tools a good resource is The Sewing Book by Alison Smith.
For information about sewing measuring tools click here on sew4home.com

For great deals on sewing supplies and notions click here on the Hancock Fabrics Homepage
Sewing Cutting Tools
Sewing Marking Tools
Sewing Notions Home