Having The Right Quilting Tools Matters
Whatever the skill level, quilters know that having the right quilting tools to do the job really matters.
For some, the word quilting tools is interchangeable with quilting notions and supplies. I suppose it really is just a matter of semantics, but I choose to distinguish the two.
I consider these as implements used to do the preparation work in quilting. Items such as: quilt templates, quilt mats, rotary cutters, scissors, quilting rulers, and quilt hoops and frames.
Especially important are the scissors, rotary cutters and mats, and quilting rulers that are chosen for quilting, since these are crucial for properly preparing the quilt project.
Scissors
A variety of scissors are needed for various stages of the quilting project and for various types of quilting. These scissors should be the highest quality that one can afford, and should be sharp. They should include: thread clippers for snipping threads, craft scissors and trimmers for cutting threads and trimming fabrics, embroidery scissors, appliqué scissors, and trimmers or shears.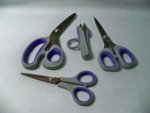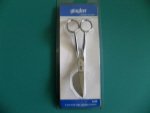 Scissor Types and Applique Scissors

Rotary Cutters and Rotary Cutting Mats
Rotary cutters are definitely a must. These cutting devices have done wonders for quilters, making the cutting of fabrics easy. There are generally four sizes that are available, 18mm, 28mm, 45mm, and 60mm. The 18mm cutter is very small and is often used to make small slits in projects. The 28 mm cutters are small and designed for small scale projects. The 45 mm cutter is an intermediate size and is the size that quilters usually start with. The 60 mm size is designed to cut through multiple layers of fabric. They also come in ergonomically designed styles. Many quilters have all four sizes. In addition to the actual rotary cutter, replacement blades should also be kept in stock.
Rotary cutters should always be used with a rotary cutter mat. These are special mats designed to prevent cutting through the table or other cutting surface that the project is being cut on. The mat should be self-healing, meaning that if the mat is cut by the rotary blade, the mat prevents slashes from being left in the mat, even during repeat usage. Rotary mats are also nice in that they have grid marks that act like a ruler surface, which can assist in the cutting of fabrics to a particular size. They do not take the place of quilting rulers, but the grid marks do help the quilter to accurately measure fabrics that are being cut to a desired measurement. There are various sizes of mats, and a good first mat is generally a 16 x 23 inches mat.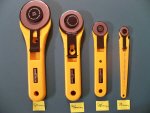 Rotary Cutters in Sizes 60mm, 45mm, 28mm and 18mm


Rotary Cutter Blades in Sizes 60mm, 45mm, 28mm, and 18mm


Rotary Cutting Mat

Quilting Rulers
Quilting rulers come in a variety of sizes and shapes, from square, to rectangular to triangular. It is a good idea to have various sizes and shapes of rulers as well. It is recommended that a 6 X 24 inch ruler should be the first ruler for a beginning quilter. As one gains in skill level additional rulers should be purchased to accommodate various types of projects. Various other sizes are: square rulers 2.5 X 2.5 inches, 4.5 X 4.5, 6.5 X 6.5, 9.5 X 9.5, 12.5 X 12.5, 15.5 X15.5 and even 16.5 X 16.5 inches. In addition to the 6 X24 inch ruler, a second good size of rectangular ruler is 6 X 12 inches. A good triangular ruler is a 6.5 inch ruler. These are by no means the only size rulers available.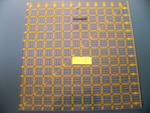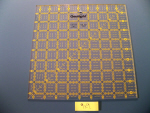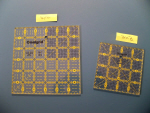 Quilt Rulers 15x15, 12x12, 9x9, 5x5, and 3x3

There are also many specialty shapes in quilt rulers that many quilters like to have on hand.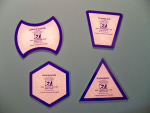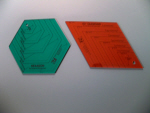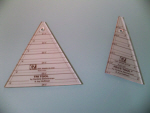 The slotted specialty quilting ruler is a handy tool for creating strip quilts.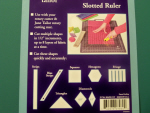 For more information on selecting any of these quilting tools the book Better Homes and Gardens Complete Guide to Quilting is once again an excellent resource. The chapter on Tools, Notions and Supplies provides further information, found at amazon.com.
Quilting tools can be purchased at just about any of the sewing centers and even online at such sites as Quilting-Warehouse.com Whether quilting by machine or by hand having the right quilting tools to aid in the process of project preparation does indeed make all the difference, and makes quilting easy as well as fun.
Sashiko Quilting Page
Quilting Supplies Page
Machine Quilting Home Page
Sewing Home Page