The Endless Beauty and Creativity of Machine Quilting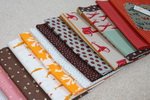 Machine quilting is an art form that resulting from hand quilting an art from that has been around a very long time. It is also a practical craft. These lovely heirlooms functioned as more than just decoration. In times past, it was quite common for these beautiful items to be part of a home's bedding to provide warmth. In modern times they are created primarily for their artistic appeal, rather than strictly as bedding. Many of us still make them as part of our bedding. They are just so beautiful, that you cannot help but use them. However, with such endless possibilities for creating a unique piece of art, the biggest use today is a decoration.
There are many quilters who have been making quilts and teaching others for many decades.
There are basically three ways to create such a beautiful and practical piece of artwork. There is the hand method and the sewing machine method and the longarm machine method
They all produce beautiful results; it is simply a matter of preference and how much time you want to spend on a project.
Do you quilt as a hobby or have a quilting business? Click here to share your passion for this beautiful art form.
Styles
There are also different styles. Some of the most popular styles are: Applique
Foundation or paper piecing
Hawaiian
Patchwork
Pictorial
Sashiko
Scrap
Strip
Trapunto
Notions/Supplies/Tools
Some of the notions and supplies required are: needles, threads, stabilizers, fusible web, batting, spray adhesives, pins, thimbles, marking pencils, marking chalk, fabric marking pens, round head pins, and safety pins.
Tools include: rotary cutters, templates, stencils, rulers, cutting mats, hoops, and frames.
In addition to the basic tools mentioned, there are other tools that are necessary, as well as some innovative tools that can make the project both easier and more fun. Click here for information about other tools

Resources
There are some really good books to begin the process of machine quilting. I recommend going to amazon.com to find an endless variety of quality books on the subject.
This is just one of the excellent books that are available, there are scores of others. There are also numerous videos online as well as DVDs at amazon.com.
If you want a complete DVD series on machine quilting the patchworkschoolhouse.com has a complete series of DVDs teaching the various aspects.
The beautiful art form of machine quilting is so popular that there are numerous resources to help anyone who is interested learn this beautiful, creative and practical art form. One of these great resources is found by clicking here on the link to all-about-quilts.com
For more excellent and creative information about all aspects of this magnificent art form, from magazines to cruises, click here on the link for Time For Quilting In the world of artisans and crafters, one of the great things about the web is the ability of others to showcase the work of fellow artisans and crafters. For a great site showcasing artisans and crafters of various specialties,including quilting, click here on the link to Brothers Handmade to find out about other artisans and see some of their work.
Do You Quilt As A Hobby Or Have A Quilting Business? Tell Us About It
Do you have a quilting hobby or even a business? Share your story about it!

Quilting is my favorite creative activity. There are so many different forms, from applique to trapunto. There is just so much artistry involved with quilting!

I just love hearing the stories of other quilters, so what is yours?


Decorating Home Page
Serger Sewing Page
Sewing Home Page