The Many Faces of Interior Decorating and Design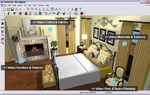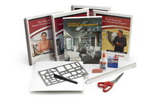 Do you know the difference between interior decorating and interior design? Is there a difference? How about interior decorating and home décor? Are they the same thing? What is interior redesign?
I had to ask myself why I wanted to include these topics on a sewing website. I had to answer, because these creative avenues are from my perspective the culmination of any sewing skills that one can possess.
Needless to say making beautiful clothes for ourselves and others is very fulfilling and creative.
Creating beautiful things for our own home or the homes of others can be fulfilling on a larger scale. Expanding our creativity to our homes, the homes of others and our work spaces can also be richly rewarding financially.
Enhancement of our interiors expresses our love of and appreciation for beauty. One way that we actually bring beauty into our lives is through the enhancement of the interiors of our buildings.
Decorator and designer are terms that are often used interchangeably, but they are different. The term home décor also has some subtle differences.
Interior designers plan and create the overall design of interior spaces using technical expertise to achieve a certain type of physical interior environment. Interior designers draw upon disciplines such as environmental psychology and architecture to actually create interior spaces.
Those that enhance the interiors of others focus on the aesthetics of the interior through the use of furnishings to actually improve the space.
Home décor is a more personal aspect of interior enhancement, focusing on the enhancement of one's personal space through our own efforts.
Interior redesign is a new form of interior makeover, which takes what you already have and uses it to make an existing exterior new again.
For a more indepth discussion of each of these topics click here on the links to interior decorating and interior design and interior redesign and home decor

For a free interior design e-course click here on interiordezine.com
Machine Quilting Home Page
Sewing Gallery
Sewing Home Page