The Open Toe Foot – A Foot That Produces A Clearer View
The open toe foot is used to provide a clearer view during stitching. The area is much wider than the standard presser foot, thus the greater visibility.
The foot also has a groove on the underside that allows stitches to feed more smoothly under the foot, also for adding trim or stitching that must glide under the foot.
This foot is good for satin stitch appliqué or decorative stitching. The foot is generally metallic or made of plastic. The stitch settings are chosen based on what is needed for stitching, the needle used is generally a machine embroidery needle, and the zigzag stitch is used. For a short video on using the open toe foot click here on homesewing.co.uk
In addition, for some information on the clear version of this foot, click here on the link to sewingmachinesplus.com There are some 45 downloadable projects for use with this foot.
This foot also comes as a free motion embroidery foot also called a free motion quilting foot, and is used for embroidery and free motion quilting, where stippling is added to the quilt for decorative purposes. The difference between this foot and a regular open toe is that the feed dogs must be lowered with the free motion foot. This foot can also be purchased as a metal or plastic foot.
For some interesting information about using the free motion version of this foot click here on the link to sewingmachinesplus.com There are also some 17 free downloadable projects for use with this type of foot.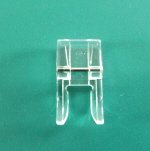 Foot Open Toe

Some excellent references about presser feet are:
• The Sewing Machine Attachment Handbook by Charlene Phillips
• Fancy Footworks – Book and/or DVD by Nancy Zieman
For information about other sewing machine presser feet, click on the links below.
Overlocking/Overcasting Foot
Invisible Zipper Foot
Sewing Machine Feet Home Page
Sewing Machine Home Page
Sewing Home Page