Sewing Machines To Please Everyone

Find Great Coupons for Craft Supplies at Coupon Gravy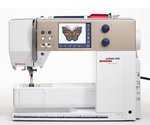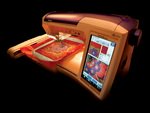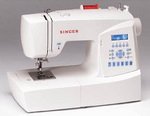 It is said that variety is the spice of life. Today's makers of sewing machines are companies that provide proof that this is true.
These machines have come a long way since I first learned to operate one as an eight year old. At that time machines for home use were manual, with that trusty foot pedal that was used to control the machine's operation. Threading the bobbin was an operation in itself.
The machines of today are a real joy to behold and to use. When I began looking for my own machine as an adult, I was pleasantly surprised that not only are manual machines easier to operate, especially when it comes to bobbin threading, but the computer age has even caught up with the sewing machine-finally!
Do you have any favorite sewing machines that you would recommend to others? Click here and share your thoughts.
There are about 11 companies selling their wares, so there are certainly a lot of products to choose from. Even though it sounds like a lot of choices, all machines have the same basic features, and are packaged similarly.
Choosing a machine that is right for you boils down to several questions, what do you want to use it for, what features do you want and how much do you want to pay?
What are some of the tasks the machine is used for?
• General tasks such like sewing clothing and mending
• Home décor (making curtains, pillows, pillow cases, table cloths, napkins, table runners and more)
• Machine embroidery
• Machine quilting
What kinds of sewing machines are available?
• Those having basic features for sewing only
• Sewing and have embroidery attachments and a special foot for embroidery
• Sewing and have quilting attachments such as an extension table and special feet, such as the ¼ inch foot
• Sewing and have both embroidery attachments and feet as well as special quilting feet and an extension table for quilting (these are generally purchased separately)
• Sergers for that professional finished look to seams
Naturally, the more features a machine has, the higher the cost. Sewing machines can run as low as a few hundred dollars to several thousand dollars.
Manual machines are generally less expensive than computerized machines. But, what those computerized machines can do, can definitely make it worth the cost!
Before settling on any one machine, you really have to decide what you are going to use it for now and in the future. That way, it may be worth it to get a more expensive machine with the attachments that can accommodate future goals, such as machine embroidery or quilting. It is also a good idea to get a serger or even one of the new serger attachments that now come with some of the newer machines. Sewing machines just keep right on advancing, who would have thought a few years ago, that soon there would be machines that could serge as well as sew, and I don't mean like the common zigzag stitch that machines come with, but real serger quality serging,.....well almost.
Once you decide what you are going to use the machine for, it is a really good idea to go online to the various machine vendors. Why? Because, the online companies show you all of their models, and most have brochures that you can print out in pdf format, that detail the features of the machine.
The major vendors that you might want to check out are sewing machines by:
Babylock
Bernina
Brother
Elna
Husqvarna
Janome
Juki
Pfaff
Singer
White

These companies have their origins all over the globe. It was interesting to read the histories of these companies and how they got started.
These makers do not sell their products online themselves, but do offer their products through the major sewing centers, as well as smaller sewing centers. The manufacturers website also provide location information.
One of these machine makers actually has a unique feature on their machine for storing the accessories that come with the machine, and they are not one of the common brands sold in one of the major sewing centers. So, without checking these other vendors out to see what they offer, you could miss out on a feature that you might like in a machine.
Some great online vendors that sell just about all of the major brands of sewing machine are AllBrands.com
and SewingMachinesPlus.com where personalized service is provided to the customer in their large store. Customers can try their sewing machines and talk to sales staff who are expert sewers. The website has detailed information about their products and they also offer an appealing low price guarantee.
Once a sewing machine has been decided on and purchased, it is time to learn about the machine, this is important before you ever purchase a piece of fabric and begin to sew. There are some machine basics that any person that sews should know.
What are the sewing machine basics that every sewer should know?
• The parts of the machine - it is important to know the basics about the machine in order to maximize the performance of your machine. For information about the basic structure of the sewing machine - the parts of the machine, click here on the link to machine basics • How to thread the machine - knowing how to correctly thread the machine results in the correct operation of the machine with proper stitch formation. For instructions on how to correctly thread these machines click here
• How to make adjustments to obtain the correct sewing stitch for the fabric type.For information about what sewing stitch adjustments are, click here to find out more about stitch adjustments
• How to choose the correct presser foot for the fabric type. What are presser feet? They are the machine attachments that add versatility to any sewing project. For more information about machine feet click here
• How to maintain the machine in good working order. Maintaining the machine in good working order involves preventative maintenance, so that the situation doesn't reach the stage of needing a professional to service the machine. What are some things that the sewer can do themselves? What are some of the tools needed to maintain the machine? For some guidelines about how to maintain the machine click here
Learning the ins and outs of the operation of the machine is a gradual process, but in order to become proficient at sewing, learning the machine is a necessary step, otherwise sewing is a skill that one can never become really good at, and knowledge and skill is what makes any craft enjoyable.
What Is Your Favorite Sewing Machine?
There are so many sewing machine companies out there and so many brands of sewing machines to choose from!

Choosing the right machine to meet our needs can be overwhelming and sometimes we need a little help.

Tell us what sewing machine you use and what you like about your machine. Maybe you can help someone else to decide.

Sewing Machine Repair Home Page
Sewing Areas Home Page
Sewing Lessons Home Page
Sewing Home Page