Walking Foot – Also Known As The Even Feed Foot
The walking foot also known as the even feed foot, is another multi-purpose marvel. This foot is unique because of its feed dogs that in combination with the sewing machine's feed dogs, work to move the fabric along. The fabric is actually sandwiched between the two feed dogs, and is essentially walked along by both set of feed dogs.
The even feed foot is a great tool for quilting and makes working on large bed sized quilts so much easier. This foot helps to prevent shifting and bunching of the quilt as it is being quilted. The foot is used for stitch-in-the-ditch quilting on your standard sewing machine.
This foot is not just for quilting, it can also be used for regular sewing, such as top stitching of multiple layers, attaching binding to blankets, and to prevent slippage of fabrics such as leather, velvet, and knits.
The even feed foot is also one of those feet that has a standard look, regardless of the manufacturer, so you don't have to wonder, is it or isn't it an even feed foot.
The foot has an arm that attaches to the needle bar, and when the needle moves up and down, one of the toes of the presser foot moves with the feed dogs of the presser foot, while the other toe picks up the next stitch. The presser foot itself attaches to the presser bar, and although there may be slight variations in how the foot attaches to the machine and needle bar, the principle is the same.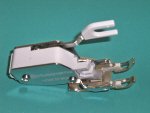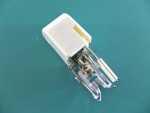 Walking Presser Feet

For some nice instructional videos on how to use and attach the walking foot click here on the link to youtube.com
For some tips on what the even feed foot can be used for, click here on the link to squidoo.com
Some excellent references about presser feet are:
• The Sewing Machine Attachment Handbook by Charlene Phillips
• Fancy Footworks – Book and/or DVD by Nancy Zieman
For information about other sewing machine presser feet, click on the links below.
Zipper Foot
Teflon Foot
Sewing Machine Feet Home Page
Sewing Machine Home Page
Sewing Home Page