The Gathering Foot – The Home Décor Time Saver
The gathering foot has revolutionized tasks of the home décor sewer. For anyone who labored to gather a garment by hand or to put gathers in kitchen curtains or around pillows, this foot is a time saver.
This foot is not to be confused with the ruffle foot. The gather creates soft gathers or a ruffle in the fabric as it is sewn, producing a slight gather not a full-fledged ruffle.
How is gathering produced? The setting of the stitch length controls the fullness of the gathers, when the stitch length is longer, the gathers are fuller; however, using a shorter stitch length decreases the size of the gathers.
The type of fabric that is used determines the fullness of the gathers, for light weight materials such as silk, the gathers will be fuller, and for heavy weight fabrics, the gathers will be lighter.
The gatherer should not be confused with the shirring foot, which is used to produce two or more decorative rows of gathers by parallel stitching, to decorate garments, such as sleeves or dress bodices; gathering by itself produces a single row of stitches.
Both feet can be used to gather or shirr while attaching one fabric to another.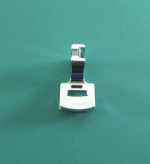 Gathering

For a nice short video demonstrating the gathering/shirring foot click here on the link to homesewing.co.uk
Some excellent references about presser feet are:
• The Sewing Machine Attachment Handbook by Charlene Phillips
• Fancy Footworks – Book and/or DVD by Nancy Zieman
For information about other sewing machine presser feet, click on the links below.
Hemmer Foot
Fringe Foot
Sewing Machine Feet Home Page
Sewing Machine Home Page
Sewing Home Page