The Buttonhole Foot – Creating Professional Looking Buttonholes
The buttonhole foot has come a long way in its design and ease of use, especially notable is the automation of this wonderful tool for creating buttonholes. The foot can now be setup to sew buttonholes automatically from start to finish. To create an automatic buttonhole, just place the button in the button holder on the foot and the foot creates a buttonhole to fit the size of the button from start to finish once the buttonhole stitch is selected, and the sewing machine is started.
The quality of the foot is important, because there are buttonhole feet that are more manual, and require positioning the needle from place to place in order to sew the next portion of the buttonhole.
One manufacturer has a sensor buttonhole foot that measures the buttonhole length and sews the size of the button that has been entered into the machine. There is no placing the button in a slot in the foot, the button is measured by the sewer and the measurement is entered into the sewing machine. This foot measures as it sews, creating every buttonhole the same size.
The newer feet make creating buttonholes a lot easier. Although, the foot that came with the machine is the one that should be used, one can purchase a more automatic foot to make creating buttonholes easier.
As with all presser feet, the owner's manual should be consulted for the nuances of the foot's use, since the manual provides tips for the use of the individual manufacturer's feet.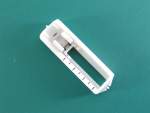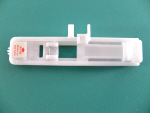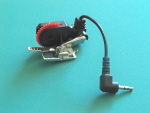 Regular Buttonhole Feet and Sensor Foot

For some general information on the use of the buttonhole foot, click here on the link to sewing4home.com For some tips on the use of the sensor foot, click here on the link to sewmuch4retirement.com click here on the link to sewmuch4retirement.com
Some excellent references about presser feet are:
• The Sewing Machine Attachment Handbook by Charlene Phillips
• Fancy Footworks – Book and/or DVD by Nancy Zieman
For information about other sewing machine presser feet, click on the links below.
Button Sewing Foot
Braiding Foot
Sewing Machine Feet Home Page
Sewing Machines Home Page
Sewing Home Page