The Button Sewing Foot – Help For The Flat Button
The button sewing foot is help for the flat button. Professional looking buttonholes deserve professional looking buttons. The foot actually attaches buttons, of course it can only attach flat buttons, it can't attach buttons with shanks, but this is still a very useful foot.
One version of this foot is a very distinctive blue and clear plastic foot, another version is an all metal foot, but they are basically shaped the same, how they are used to sew on buttons is basically the same.
The button sewing stitch is selected, and once the button is placed under the foot, then the needle is adjusted so that it enters each hole of the button as it moves from one hole of the button to the other by using the hand wheel to make sure that the needle enters each hole in the button cleanly before stitching begins, this is key, so that the needle does not strike the button as it moves from side to side in stitching. For some sewing machines the feed dogs must also be lowered.
Generally this foot is used with buttons that have two holes, but it can be used with four hole buttons, the first two holes are stitched first then the button is repositioned so that the other two holes are stitched.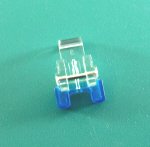 Button Sewing Foot

For a brief little video on using the button sewing foot, click here on sewingmachines-sales.co.uk.com
For some easy instructions on sewing on a button, click here on wikiHow.com
Some excellent references about presser feet are:
• The Sewing Machine Attachment Handbook by Charlene Phillips
• Fancy Footworks – Book and/or DVD by Nancy Zieman
For information about other sewing machine presser feet, click on the links below.
Circle Stitch Attachment
Buttonhole Foot
Sewing Machine Feet Home Page
Sewing Machines Home Page
Sewing Home