Sewing Cutting Tools – Without Them There Would Not Be A Project
Sewing cutting tools are very important to moving the sewing project along to completion. Sewing cutting tools should be of the best quality that you can afford. The best quality cutting tools are made of high grade stainless steel.
Just what do we mean by cutting tools? We are referring to scissors, shears, clippers, rotary cutting tools and seam rippers. These cutting tools should be kept in good working order by periodic sharpening.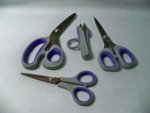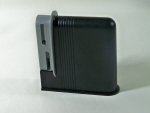 Various Types of Scissors and Scissor Sharpener

Bent Handled Dressmaker's Shears
Bent handed dressmaker shears are good for cutting the actual pattern/fabric together. The shape of the blade, especially the lower blade allows the fabric to lay flat on the cutting surface. The size should be at least seven or eight inches. Heavy duty stainless steel dressmaker shears should be used for cutting heavy fabrics and a lighter weight pair of these shears can be used to cut lighter weight fabrics.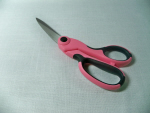 Bent Handled Stainless Steal Shears and Pink Shears

Pinking Shears
Pinking shears, not to be confused with dressmaker shears, have serrated or jagged edges that cut a zigzag pattern on the fabric. These shears are used to finish seams and to finish raw edges, and to create decorative edges. The edge that they produce is resistant to raveling.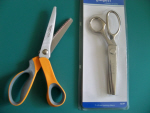 Pinking Shears

Scissors
Sewing scissors should consist of those for cutting fabric and those for cutting paper such as pattern paper and cutting the actual pattern that is going to be used away from the pattern sheet. Scissors for cutting fabric should never be used for cutting paper, because this can dull these scissors. Sewing scissors are also referred to as trimming scissors, because they are used to trim and clip seams and facings and also to trim away excess fabric. These scissors generally have about a six inch blade.
Embroidery scissors are a smaller with about a four or five inch blade and are used in hand embroidery work and precision cutting, to get into corners and clip threads close to the fabric.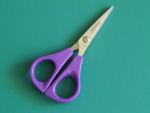 Sewing or Trimming Scissors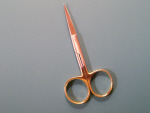 Embroidery Scissors

There are also specialty scissors for use in appliqué quilting called appropriately appliqué scissors. For information about these scissors click here on the link to the quilting tools pages Thread Clippers
Thread clippers are a handy little spring loaded cutting tool that allows for the snipping of threads. These clippers are specifically used to snip threads and are not designed to do anything but snip threads, they are not designed to cut fabric and feel very awkward if one tries to use them for cutting fabric.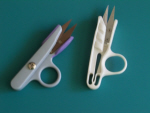 Thread Clippers

Seam Ripper
Seam rippers are specifically designed for ripping out stitches from seams, either as a result of an error or during alterations. They should be used carefully to prevent damage to the fabric.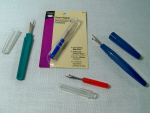 Seam Rippers

Rotary Cutter and Mat
The rotary cutter and mat although a quilter's tool, can also be used in general sewing to cut through multiple layers of fabric. The rotary cutter mat must be used to prevent damaging the cutting surface, especially if one uses a cutting table and mat, because using the rotary cutter without the rotary mat can damage the cutting table mat. The small 18mm rotary cutter is a good tool for opening button holes, if you don't possess a buttonhole chisel.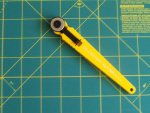 18mm Rotary Cutter and Mat

For additional information about sewing cutting tools a useful reference is The Sewing Book by Alison Smith. For additional information about sewing cutting tools click here on fabriclandwest.com
For great deals on sewing supplies and notions click here on the Hancock Fabrics Homepage
Sewing Pressing Tools
Sewing Measuring Tools
Sewing Notions Home