Sewing Pins – The Bridge Between Pattern, Fabric And Garment
Sewing pins are another essential tool in the sewer's repertoire. There are basically two types of sewing pins that any sewer needs, straight pins and safety pins. There are different types of what can be considered straight pins. One type of straight pin is the simple metal pin that is very small and used for general sewing. Straight pins are really best for hand sewing, when working on garments for machine sewing, another type of straight pin, the ball head pin is best. Another type of straight pin is the T-pin, which is a great pin for quilting, and sewing tough fabrics like canvas and upholstery.
When choosing the type of straight pin appropriate for a project, it is important to consider the length of the pin, the thickness of the pin, and the type of head the pin has. Regular straight pins really should only be used for hand sewing, ball head pins are the pin of choice when working with patterns during garment construction to hold the pattern pieces together during fitting, then for holding the pattern to the fabric, and next to hold the fabric pieces together during fitting and stitching. Ball head pins typically have colored heads, making them easier to see during the garment construction process, Ball headed pins can either be glass, metal or plastic.
Safety pins of different sizes from small to large pins should be kept on hand for hand basting quilts. Safety pins are much easier to work with and are more appropriate for the task of basting quilts than straight pins. Using straight pins to baste a quilt can result in multiple pin pricks and quilt basting disaster, especially since even the larger ball headed straight pins are often not strong enough to hold the quilt pieces together and are subject to slip out of the quilt, resulting in a very frustrating basting experience.
Another type of pin that is becoming increasingly popular for quilting, sewing and serging is the flower head pin, the head of which is large and flat, and is often preferred by those that have difficulty holding pins. These pins are also recommended such fabrics as boucle, lace, and sweater knits. These pins are also good for holding many layers of fabric together. Some of these pins can even be ironed over due to non-melt technology, but those that are heat resistant must be the ones purchased, since not all flower head pins are heat resistant.

Ball Head Pins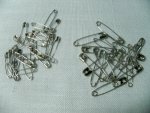 Safety Pins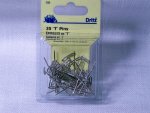 T Pins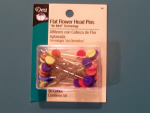 Flat Flower Head Pins

Some accessories that go along with pins are pin cushions a very handy accessory for holding all of our pins and keeping them off of the floor.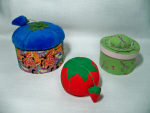 Pin Cushions Come In Different Varieties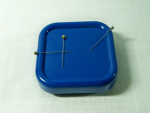 Magnetic Pin Holder
For some interesting information about the different types of sewing pins click here on wisegeek.com


For great deals on sewing supplies and notions click here on the Hancock Fabrics Homepage
Sewing Marking Tools
Sewing Thread
Sewing Notions Home