Schools for Sewing Are Still In Fashion
There are actually schools for sewing that expand on the sewing skills that you have already acquired. Want to take that sewing skill even further? Want a career in fashion? Then attending an institution with a program for dressmaking or dressmaking/design is for you.
These programs take you beyond just copying a design from a pattern and making a garment. By enrolling in a program for dressmaking and design you can actually design your own clothes.
By completing a dressmaking program you can go beyond making your own clothes, but can have a career as a fashion designer, work for a tailor, or even start your own business.
These programs go beyond simply teaching you to instruct others in sewing.
There are two online institutions that offer dressmaking and dressmaking/design. The great thing about these two institutions is that you can pursue their programs as independent study or distance learning. So, you can take the entire programs from the comfort of your own home!
The programs are provided at the following online institutions:
The Penn Foster Career School which can be found at pennfoster.edu To find information about the dressmaking and design curriculum click on the Creative/Design programs link and by scrolling through their alphabetical course list you can find the link to their dressmaking and design course.
Another noted program is at the Stratford Career Institute (SCI). This is one of the schools for sewing that has a dressmaking course which can be located at scitraining.com

Once on the home page, you can click on the Alphabetical Course List and scroll down to the Creative Careers menu where you will find the course for sewing and dressmaking.
Those that can sew will always be in demand. Although the fashion industry is big business, just knowing how to sew and design clothing for ourselves is well worth the effort of learning to sew. With just this simple skill we can go far and lead a much more creative life.
For a great web based site for e-sewing lessons, click below on eSewing Workshop.com.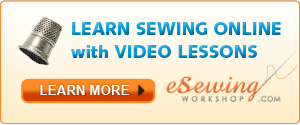 Sewing Lessons Instructors
Sewing Machines Home Page
Sewing Lessons Home Page