Velvet Fabric – An Elegant Member Of The Pile Family Of Fabrics
Velvet fabric is a sister fabric to both velour and velveteen, and of the three is the one most used for creating elegant designs. In addition to being a member of the pile family of fabrics, velvet fabric is also a member of the larger cotton family of fibers. In addition, as confusing as it may seem, velvet also comprises its own family of fabrics, consisting of: bagheera; burn-out, brocaded or voided velvet; chiffon velvet; crushed; cut; devore; faconne; Lyons; mirror; nacre; panne; sculpted; and transparent velvet.
Velvet was originally made of silk, but is now made of such fabrics as cotton, rayon, acetate, polyester, and fiber blends. Velvet is also a woven fabric.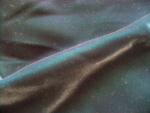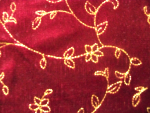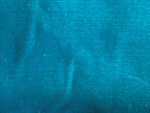 Fabric Characteristics:
• Has a pile and requires a nap layout
• More difficult to sew than other pile fabrics
• It usually requires extra fabric for a project
• Easily marred by pins, stitching mistakes, alterations, heat, moisture, and improper pressing
• Most creep badly and sometimes pucker during stitching
• The pile sheds badly at the raw edges
• Some fray badly
• Some are bulky
• Most must be dry cleaned
• Cotton velvet is the most durable
• Acetate velvet is easily damaged by moisture and pressure
Working With These Fabrics Requires:
• Sewing machine needles should be sizes 60/8-80/12 sharps and universals depending on the fabric weight
• Hand sewing needles should be sizes 7-9
• Sewing machine settings used should be a stitch length of 2-3mm
• Sewing machine feet recommended are the roller, walking, and zipper foot
• Thread should be all-purpose cotton, polyester, cotton/polyester blend and for hand basting silk or unglazed cotton
• Tools and equipment recommended is sharp scissors, sharp shears, pins
• Layout should be nap, single layer, wrong side up
• Marking tools recommended are chalk, clips (snip marks in seams), and tailor tacks
• Seams recommended are plain, taped, piped and tissue stitched
• Hems recommended are plain, hand blindstitch, hand catchstitched, hand blind catchstitched, hand double stitched
• Seam and hem finishes recommended are single ply, unfinished, pinked, pinked-and-stitched, multi-stitch zigzag, serged, Hong Kong to name a few
• Edge finishes recommended are self-fabric facings, smooth fabric facings, bands, ribbings and bindings
• Closures and pockets can be all types
• Interfacings used should be for cotton velvets fusible and sew-ins and for other types of velvet sew-ins
• Underlings are rarely used
• Pressing recommended is a steam iron on a medium setting
These Fabrics Are Suitable For:
Velvet fabric is recommended for full pants, skirts, vests, capes, dresses, gored skirts, loose and boxy or semi-fitted jackets, and children's dressy garments. Velvet is primarily used for elegant dressy designs.
For information about the notions, tools, and equipment required to complete a sewing project, click here to view the sewing notions home page
For more information about this family of fabrics some great references are:
Claire Shaeffer's Fabric Sewing Guide
More Fabric Savvy by Sandra Betzina
All About Cotton – Julie Parker's Fabric Reference Series
For more interesting information about velvet fabric click here on Wikipedia.org and click here on fabrics-manufacturers.com and click here on the freedictionary.com for a nice definition of velvet

To continue exploring information about fabrics follow the links below.
Vinyl Fabric
Fabric Facts
Fabric Content
Return to Sewing Fabric Home
Return to Sewing Home Page