Suede Fabric – Using Animal Hides To The Full
Suede fabric is considered a type of leather created when the inner side or flesh side of the skin is finished, as opposed to the outside of the skin, which is tanned to produce leather. The fabric characteristics are for leather.
Suede fabric comes as lamb suede, pig suede, chamois or deerskin.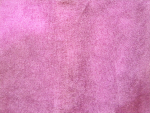 Fabric Characteristics:
• Does not fray and resists tears
• Windproof and waterproof, but may spot
• It is easily marred by pins and sewing machine stitching
• These garments cannot be let out if they become too small
• Some cannot be stitched with a regular presser foot because they stick
• Easily damaged by steam and a hot iron
• May crease permanently when left folded
• Glues and adhesives may bleed through causing spots
• The colors on some may rub off
• Will mildew and permanently stain when stored in humid areas
• Suedes have a nap and may require a nap layout
Working With These Fabrics Requires:
• Sewing machine needles recommended are sizes 70/10 jeans needle for lightweight skins, 90/14 leather needle for pig suede
• Hand sewing needles recommended are glover's needle, leather needle
• Sewing machine stitch length of 3 mm
• Sewing machine feet recommended is the Teflon foot or roller foot
• Layout should with nap, wrong side up single thickness
• Marking tools recommended are fabric markers or pencils, non-wax based marking chalk, because it stains
• Tools and equipment recommended are sharp scissors, rotary cutter and mat
• Seam finishing recommended is a plain seam
• Hem finishing recommended is double row of topstitching on thin suede
• Pressing recommended is a dry iron at the medium setting, using a pressing cloth on the right side
• Interfacing recommended is sew-in at a low temperature setting
• Closures recommended are bound buttonholes, snaps, button loops, eyelets and lacing
These Fabrics Are Suitable For:
Suede is suitable for soft and drapey designs if using lamb suede, such as loose shirts, loose pants, semi-fitted pants or jackets. Since pig suede is less drapey use for fitted skirts or flat front pants. Suede can also be used in upholstery, shoes, bags and other accessories.
For information about the notions, tools, and equipment required to complete a sewing project, click here to view the sewing notions home page
For more information about this family of fabrics some great references are:
Claire Shaeffer's Fabric Sewing Guide
More Fabric Savvy by Sandra Betzina
For more interesting information about suede fabric click here on Wikipedia.org
To continue exploring information about fabrics follow the links below.
Tapestry Fabric
Fabric Facts
Fabric Content
Return to Sewing Fabric Home Page
Return to Sewing Home Page