Tapestry Fabric – A Member Of The Brocade Family
Tapestry fabric is a member of the brocade family of fabrics. Tapestry fabric is heavier than brocade, usually with decorative designs depicting historical or current scenes. Tapestry was formerly woven by hand in China, but today they are woven on the jacquard loom, thus, there are floral designs in many tapestry materials today, blurring the distinction between tapestry and brocade. Tapestry follows the brocade family of characteristics.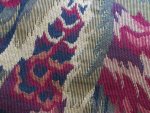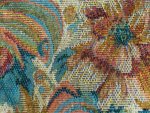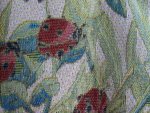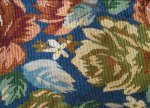 Fabric Characteristics:
• Those with woven decorative surfaces are permanent
• Those with large floral or decorative designs should be matched horizontally
• May require a nap layout
• Woven decorative surfaces are frequently thick and bulky
• Most are difficult to ease
• Easily damaged in pressing
Working With These Fabrics Requires:
• Sewing machine needle sizes should be 70/10-90/14 sharps and universals depending on fabric weight
• Hand sewing needle sizes should be 5-10
• Sewing machine settings recommended are a stitch length of 1.75-3 mm, depending on fabric weight, loose tension and light presser foot pressure should be used
• Sewing machine feet should be the wide-straight stitch or the even feed roller foot
• Thread should be all-purpose cotton, polyester, cotton/polyester blend
• Tools and equipment recommended are sharp scissors, sharp shears, rotary cutter and mat, pins, fabric weights, fabric stabilizers
• Layout for heavy fabrics should nap, single layer
• Marking tools recommended are all types, except wax and temporary marking pens
• Seams recommended are plain and double-ply to name a few
• Hems recommended are plain, hand double-stitched, hand blind-stitched, hand blind-catchstitched, hand catchstitched, horsehair braid, faced, narrow hems
• Seam and hem finishes recommended are single or double-ply, serged, multi-stitch zigzag to name a few
• Edge finishes self-fabric facings, lining fabric facings, bias facings, bias bindings, and lace
• Interfacings recommended are sew-in
These Fabrics Are Suitable For:
Tapestry is suitable for jackets, coats, and handbags, and home decor.
For information about the notions, tools, and equipment required to complete a sewing project, click here to view the sewing notions home page
For more information about this family of fabrics some great references are:
Claire Shaeffer's Fabric Sewing Guide
For more interesting information about tapestry fabric click here on ehow.com and click here on fabrics-manufacturers.com

To continue exploring information about fabrics follow the links below.
Terrycloth Fabric
Fabric Facts
Fabric Content
Return to Sewing Fabric Home Page
Return to Sewing Home Page