Terrycloth Fabric – The Absorbent Comfy Fabric
Terrycloth fabric is known for its absorbency and for being a comfy homey fabric. Terrycloth fabric is made up of 100% cotton, some with a stretch base and some with a woven base, woven on either a jacquard or dobby loom. The weave is actually known as a pile weave.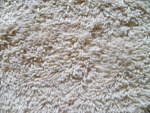 Fabric Characteristics:
• Easy to sew
• Has a pile and may require a nap layout
• Usually requires extra fabric for project construction
• Some may be bulky
• Shrinks and should be laundered before fabric cutting
• Usually plush, soft and thick
• Highly absorbent
Working With These Fabrics Requires:
• Sewing machine needles should be 80/12 or 90/12 universal needles
• Hand sewing needles should be size 5-9
• Sewing machine stitch length recommended should be 3mm
• Sewing machine foot recommended is the Teflon foot
• Thread used should be all-purpose good quality cotton, polyester or cotton/polyester blend
• Tools and equipment recommended is sharp scissors, sharp shears, rotary cutter and mat, washable glue stick, transparent tape and hand vacuum
• Layout is without nap, double thickness
• Marking tools recommended are fabric markers, adhesive dots and safety pins
• Seams recommended are plain, double-ply, to name a few
• Hems recommended are plain, machine blindstitch
• Seam and hem finishes recommended are serged, zigzagged, multi-zigzagged, single or double-ply to name a few
• Edge finishes recommended are smooth fabric facings, decorative facings, bindings, ribbings, casings, and bands
• Closures recommended are buttons and machine buttonholes, loops, zippers, toggles, and ties
• Pockets recommended are inseam and patch
• Interfacings and linings are rarely used
These Fabrics Are Suitable For:
Terrycloth is suitable for beach jackets, robes, towels, casual garments such as t-tops, shorts, and slacks.
For information about the notions, tools, and equipment required to complete a sewing project, click here to view the sewing notions home page
For more information about this family of fabrics some great references are:
Claire Shaeffer's Fabric Sewing Guide
More Fabric Savvy by Sandra Betzina
All About Cotton – Julie Parker's Fabric Reference Series
For more interesting information about terrycloth fabric click here on Wikipedia.org and click here on fabrics-manufacturers.com

To continue exploring information about fabrics follow the links below.
Tweed Fabric
Fabric Facts
Fabric Content
Return to Sewing Fabric Home Page
Return to Sewing Home Page