Tweed Fabric – Textured Woolen Creations
Tweed fabric is part of the textured woolens family of fabrics. These fabrics are usually woven in a combination of two or more colors or a combination of two or more of the same color. The origin of these tweed fabrics is tied to the Tweed River, which flows along the border between England and Scotland. Generally tweeds are named for the area for which they are made, such as Harris, Shetland, Donegal, and Bannockburn. Others such as herringbone or houndstooth are known for their physical characteristics. Tweed follows the fabric characteristics of the textured woolens.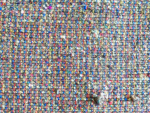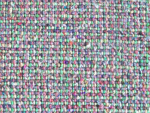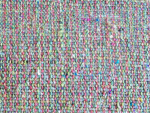 Fabric Characteristics:
• Many are firmly woven
• Easy to sew
• Durable
• Moisture resistant
• Many have a nap
• Many are bulky
• Can be damaged with improper pressing techniques
• Those with slubs and low-twist yarns tend to pill more
• Frequently have a rough surface which can hide stitching irregularities
Working With These Fabrics Requires:
• Sewing machine needles used should be 70/10-90/14 sharps, and universals dependant on fabric weight
• Hand sewing needles should be sizes 5-7
• Sewing machine settings should be a stitch length of 2-3mm
• Sewing machine feet recommended are the wide straight stitch, zigzag, roller or even feed foot
• Thread recommended is all-purpose cotton, polyester, cotton/polyester blend; for basting silk or soft cotton thread, for topstitching silk thread
• Layout should be nap, double layer, right sides together, for heavy tweeds: single layer, right side up
• Marking tools recommended are all types, except temporary marking pens
• Tools and equipment recommended are sharp scissors, sharp shears, rotary cutter and mat, pins, small safety pins, a point turner and fabric stabilizers
• Seams recommended are plain, topstitched, welt, double-welt
• Hems recommended are plain, hand blindstitch, hand catchstitch, machine blindstitch, machine double-stitch
• Seam and hem finishes recommended are single-ply pinked and stitched and serged to name a few
• Edge finishes recommended are self fabric facings, bias facings, bindings and bands
• Interfacings recommended are fusible or sew-ins
• Linings are generally used for outerwear
• Closures recommended are all types
• Pockets recommended are all types
These Fabrics Are Suitable For:
Tweed fabrics are used for sportswear for men and women, informal outerwear, suits, coats, slacks and caps.
For information about the notions, tools, and equipment required to complete a sewing project, click here to view the sewing notions home page
For more information about this family of fabrics some great references are:
Claire Shaeffer's Fabric Sewing Guide
All About Wool – Julie Parker's Fabric Reference Series
For more interesting information about tweed fabric click here on Wikipedia.org and click here on fabrics-manufacturers.com

To continue exploring information about fabrics follow the links below.
Twill Fabric
Fabric Facts
Fabric Content
Return to Sewing Fabric Home Page
Return to Sewing Home Page