Twill Fabric – A Diagonal Patterned Cotton Family Member
Twill fabric is a term for a variety of cotton fabrics that are woven using a twill weave, producing a pattern of distinctive diagonal ribs. Twill actually represents the weave not the fabric. One cotton twill fabric is often referred to as chino, other twill weave fabrics are gabardine, which is generally made from wool, and whipcord, which has a compact twill weave and can be made of cotton or wool. A variation of the twill weave is also used with wool to produce such fabrics as herringbone. The twill weave is very pronounced on the front side of the fabric and less pronounced on the back side of the fabric, especially in single color fabrics. Twill follows the twill weave fabric characteristics.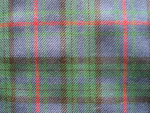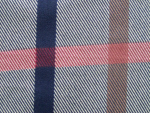 Fabric Characteristics:
• Durable fabric that does not rip or tear easily
• Medium to heavy in weight
• Many fray badly
• Some require a nap layout
• Many twill weaves shrink
• Some are difficult to ease
• Twill weaves wear and abrade at the edges and fold lines
• Skipped stitches can sometimes be a problem
• Usually does not require ironing
Working With These Fabrics Requires:
• Sewing machine needles should be sizes 70/10-90/14 sharps depending on the fabric weight
• Hand sewing needles should be sizes 5-10
• Sewing machine settings of a stitch length of 2-3mm recommended
• Sewing machine feet recommended are the zipper, even-feed, roller and edge stitch foot
• Thread recommended should be all-purpose cotton, polyester, cotton/polyester blend and for topstitching all-purpose topstitching thread is recommended
• Tools and equipment recommended include sharp scissors, sharp shears, rotary cutter and mat, pins, and fabric weights
• Layout required is double layer, right sides together, some require a nap layout
• Marking tools recommended include all types, except wax
• Seams recommended include plain, topstitched, welt, double-welt and double-ply
• Hems recommended include plain, double-stitched, hand blindstitch, sewing machine blindstitched
• Seams and hem finishes recommended include serged, single or double-ply, pinked, pinked and stitched, zigzag, multi-zigzag
• Edge finishes include all types
• Closures include all types
• Pockets include all types
• Interfacings recommended are fusible or sew-in
• Linings generally used for outerwear
• Underlinings are rarely used
These Fabrics Are Suitable For:
Twill is often used for slacks, skirts, jackets, shirts, riding habits, raincoats, work clothes, uniforms, and men's suits.
For information about the notions, tools, and equipment required to complete a sewing project, click here to view the sewing notions home page
For more information about this family of fabrics some great references are:
Claire Shaeffer's Fabric Sewing Guide
All About Cotton – Julie Parker's Fabric Reference Series
For more interesting information about twill fabric click here on Wikipedia.org
To continue exploring information about fabrics follow the links below.
Velour Fabric
Fabric Facts
Fabric Content
Return to Sewing Fabric Home Page
Return to Sewing Home Page