Chiffon Fabric – The Soft Sheers Family of Fabrics
Chiffon fabric is part of the family of fabrics referred to as soft sheers. This fabric family consists of chiffon fabric, georgette and crepe chiffon. These sheers are considered the most difficult sheers to sew. They are of course beautiful delicate fabrics, but must be handled with care.
Of the members of the chiffon family, silk chiffon has the best drape, rayon and polyester chiffon does not conform as well to the body.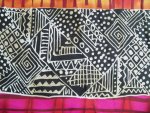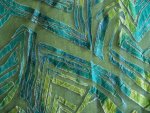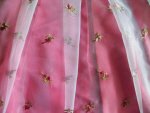 Fabric Characteristics:
• Due to the sheerness of the fabric all construction details show on the outside of the fabric
• These fabrics are known to fray badly
• They are easily damaged by such things as sewing or machine needles, presser feet, feed dogs, ripping, over handling and over fitting
• They sag with age and weight
• They are easily damaged by hot irons and steam
Working With These Fabrics Requires:
• Sewing machine needles should be 60/8, 65/9 or 70/10 sharp or universal
• Sewing machine settings should be 1.25-2.0 mm
• Sewing machine feet used should be straight stitch, sating stitch, or roller foot with a single hole throat plate or small hole needle plate
• Threads used should be fine cotton or cotton/polyester blend or all purpose cotton and polyester, polyester thread is not recommended for chiffon in this fabric family
• The layout should be without nap, single thickness
• Tools and equipment used should consist of sharp scissors, sharp serrated or stainless steel shears, superfine pins
• Interfacing preferred should be self-fabric, regular interfacings should rarely be used
• Seams and hems if serged a serged rolled hem is recommended, machine rolled hem
• Closures can be buttons, loops, covered snaps, zippers, hooks and eyes, and it is recommended that button holes be machined with fine embroidery thread, if using zippers seam allowances should be interfaced with organza
• Pressing should be done very carefully, because chiffon can stretch during pressing, and should also be done without steaming, since steaming leaves water spots
These Fabrics Are Suitable For:
Chiffon is great for flowing dresses, full pants, and loose tops, also well suited to designs with shirring, soft tucks, drapes and gathers.
For information about the notions, tools, and equipment required to complete a sewing project, click here to view the sewing notions home page
For more information about this family of fabrics some great references are:
Claire Shaeffer's Fabric Sewing Guide
More Fabric Savvy by Sandra Betzina
To see some interesting uses of the fabrics represented by these swatches, click here to visit the sewing gallery

For more interesting information about Chiffon fabric click here on Wikipedia.org
To continue exploring information about fabrics follow the links below.
Corduroy Fabric
Fabric Facts
Fabric Content
Return to Sewing Fabric Home Page
Return to Sewing Home Page