Corduroy Fabric – The King's Cord of The Cotton Family of Fabrics
Corduroy fabric is a popular fabric, which is very durable. Corduroy fabric is used for casual garments and children's clothing. The fabric is made into piles using combed, mercerized cotton or a cotton/polyester blend. Corduroy has a very distinctive pattern, that of horizontal or vertical ribs. The fabric is usually a solid color, but designs can also be created in the fabric. This is also a very affordable fabric which is another reason for its popularity.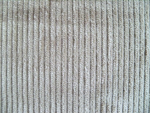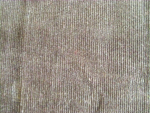 Fabric Characteristics:
• This fabric is relatively easy to sew
• Many are 100% cotton and shrink when laundered
• The fabric contains a pile and requires a napped layout
• The pile sheds
• Some corduroys are bulky due to the size of the ribs
• Corduroy can be either washed or dry cleaned, but is not as attractive after washing
• The fabric can be marred by pins, ripped seam lines, alterations and improper pressing
Working With These Fabrics Requires:
• Sewing machine needles required are 70/10-100/16 sharps or universals depending on the weight of the material
• Hand sewing needle sizes 5-9 should be used
• Sewing machine settings are a stitch length of 2-3 mm with variable tension and presser foot pressure
• Sewing machine feet that can be used are the walking, roller, even feed or zipper foot
• Thread should be good quality all-purpose cotton, polyester or cotton/polyester blend
• Tools and equipment are scissors or rotary cutter, sharp shears, shim, pins, stiff brush
• Marking tools consist of tailor's chalk, temporary marking pens, tracing wheel, carbon, Clo-Chalk
• Seams and Hems can be plain stitched and finished by pinking and pinking and stitching, zig zagged or serged
• Interfacing can be used
• Closures can be all types
• Pressing should be done on the wrong side of the fabric
These Fabrics Are Suitable For:
Corduroy is great for children's clothing, sportswear, jackets, coats, pants, skirts, vests, jumpers, tailored shirts and pants, and home décor projects such as pillows.
For information about the notions, tools, and equipment required to complete a sewing project, click here to view the sewing notions home page
For more information about this family of fabrics some great references are:
Claire Shaeffer's Fabric Sewing Guide
More Fabric Savvy by Sandra Betzina
For more interesting information about corduroy fabric click here on threadsmagazine.com
To continue exploring information about fabrics follow the links below.
Cotton Fabric
Fabric Facts
Fabric Content
Return to Sewing Fabric Home Page
Return to Sewing Home Page