Cotton Fabric – The Parent For Many Other Fabric Families
Cotton fabric is a huge family of fabrics. Cotton is used to make a wide variety of other fabrics. Cotton is a natural fiber known for comfort, appearance, versatility, and performance. Cotton is frequently blended with rayon to create less expensive fabrics and with synthetics to make fabrics that are easy care and wrinkle resistant. Cotton is an excellent fabric for quilt making and is the primary fabric used for quilt creation.
The cotton family includes:
• Batiste, Calico, Canvas, Challis, Chambray, Chenille, Chino, Chintz, Corduroy, Crepe, Damask, Denim, Dotted Swiss, Double Knits, Flannel, Fleece, Gabardine, Gauze, Gingham, Jersey, Lace, Madras, Muslin, Organdy, Percale, Pique, Poplin, Rib Knits, Sail Cloth, Sateen, Seersucker, Suede, Terry, Velour, Velvet, Velveteen, and Voile.
This is only a partial list and by no means includes all of the cotton based fabrics that exist, but is a list of some of the most common ones. These cotton based fabrics also come in a variety of price ranges, from inexpensive to expensive.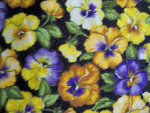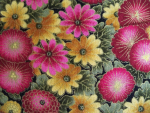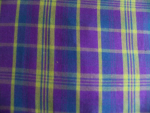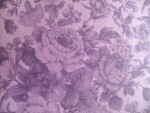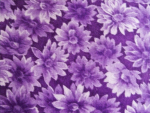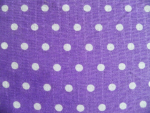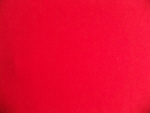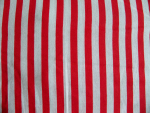 Fabric Characteristics:
• Comfortable, durable, flammable
• Absorbs moisture well, a good heat conductor, abrasion resistant, resists pilling and moths
• Cotton frequently shrinks
• Soils easily
• Can be laundered or dry cleaned depending on the fabric structure and garment design, dyes and fabric finish
• Does not build up static electricity
• Cotton wrinkles easily
Working With These Fabrics Requires:
• Sewing machine needles used should be 60/8-120/20 sharps or universals depending on the fabric weight and structure
• Hand sewing needles should be size 5-10
• Sewing machine setting should be a stitch length of 1.5-3 mm
• Thread should be lightweight cotton, all-purpose cotton, polyester and cotton/polyester blends
• Fabric Markers used can be all types except wax
• Tools and equipment required sharp scissors and rotary cutter and mat (for quilting), sharp shears, pins and safety pins
• Seams and Hems depend upon the fabric and its characteristics, serging is also good
• Interfacings, linings, and underlinings depend upon the fabric and its characteristics
These Fabrics Are Suitable For:
Cotton fabric is so versatile that it can be used for almost any type of garment from casual to formal wear. Cotton is the primary fabric used for quilts.
For information about the notions, tools, and equipment required to complete a sewing project, click here to view the sewing notions home page
For more information about this family of fabrics some great references are:
Claire Shaeffer's Fabric Sewing Guide
More Fabric Savvy by Sandra Betzina
For more interesting information about cotton fabric click here on nyfashioncenterfabrics.com
To continue exploring information about fabrics follow the links below.
Denim Fabric
Fabric Facts
Fabric Content
Return to Sewing Fabric Home Page
Return to Sewing Home Page