The Boucle Fabric Family of Fabrics
The boucle fabric is part of a family of fabrics termed textured woolens. Boucle fabric, is a loosely woven or knitted fabric with small curls or loops that provide a nubby surface. These textured woolens are generally woven in a combination of two or more colors or two or more shades of the same color. These fabrics are frequently recommended for beginning tailoring projects because they are easy to sew. These fabrics can also be expensive.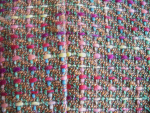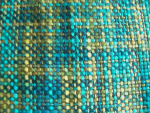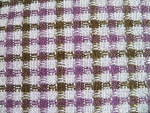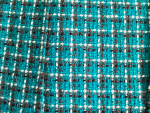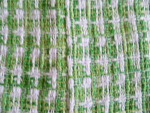 Fabric Characteristics:
• Those fabrics that are firmly woven are easier to sew
• Those fabrics that are loosely woven are more difficult to sew
• Can be bulky
• Can be damaged by improper pressing
• Some of these fabrics can have a tendency to pilling
Working With These Fabrics Requires:
• Depending upon which fabric of the family, sewing machine needle size 70/10-90/14, sharps and universals should be used
• Hand sewing needles of size 5-7 should be used
• Sewing machine settings of 2-3 mm should be used with a wide straight stitch or zig zag stitch
• Sewing machine feet that should be used are the walking foot or roller foot
• Thread should be cotton, polyester and cotton/polyester blend, silk should be added to these for basting or top stitching
• The layout should be napped double layer, right sides together
• All types of marking tools can be used, except temporary marking pens
• Equipment and supplies needed are sharp scissors, rotary cutter, and sharp shears, as well as pins and safety pins
• Interfacing can be fusible or sew-in
• Lining should be the type generally used for outerwear
• Hems should be overlocked, there is a tendency for some of these fabrics to fray and ravel badly
• Closures of all types can be used
These Fabrics Are Suitable For:
Informal sportswear, sweaters, vests, unlined coats, jackets, and some of these fabrics can be used to make women's suits.
For information about the notions, tools, and equipment required to complete a sewing project, click here to view the sewing notions home page.
For more information about this family of fabrics some great references are:
Claire Shaeffer's Fabric Sewing Guide
More Fabric Savvy by Sandra Betzina
To see some interesting uses of the fabrics represented by these swatches, click here to visit the sewing gallery.

For more interesting information about boucle fabric, click here on wisegeek.com
To continue exploring information about fabrics follow the links below.
Brocade Fabric
Fabric Facts
Fabric Content
Return to Sewing Fabric Home Page
Return to Sewing Home Page