The Brocade Fabric Family of Fabrics
Brocade fabric is a family of fabrics that consists of in addition to brocade fabric, fabrics with such names as Brocatelle, Cloque, Matalasse, Plisse, and Tapestry. This family also contains embossed fabrics, imperial brocade, and upholstery fabrics. These are beautiful and elegant fabrics, with exquisite designs that require care when working with them because they have a certain amount of delicateness to them. When purchasing these fabrics cost is also a factor, since they can be expensive to purchase.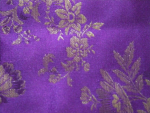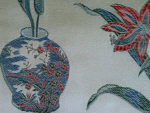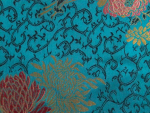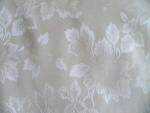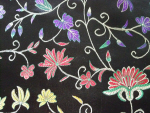 Fabric Characteristics:
• Woven decorative surfaces with a design all over the fabric, typically with a floral motif, animals, plants or geometric shapes often constructed in silks with gold or silver threads thus enhancing their beauty
• Somewhat delicate fabrics in that they can be easily marred by pins, needles and ripping
• These fabrics fray and ravel badly
• Due to the decorative surface some of these fabrics are thick and bulky
• They are easily damaged during pressing
• They are difficult to ease
Working With The Fabric Requires:
• Depending on which fabric in the family sewing machine needle size 70/10-90/14, sharps and universals should be used
• Sewing machine settings of 1.75-3 mm should used with a straight stitch
• Sewing machine feet that should be used are the standard foot, even feed foot, or roller foot
• All-purpose thread should be used meaning cotton, polyester and cotton/polyester blend is suitable
• For hand stitching, the needle size should be 5-10
• Equipment and supplies needed are sharp scissors or rotary cutter, sharp shears
• Marking tools such as fabric pens, Clo-Chalk and tailoring tacks, wax and temporary marking pins should not be used
• The layout should be for heavy fabrics napped with a single layer, for light to medium weight fabrics napped double layer with right sides together
• Interfacing can be fusible or sew-in
• Special occasion fabrics should be lined
• To reduce bulk it is recommended that seams be pressed open and overlocked separately
• Hems should also be overlocked due to the tendency of fabrics in this family to fray and ravel, but can also be finished with double fold bias tape, and can be hand hemmed and it is recommended that the hem be no more than 1 ¼ inches to reduce bulk in the hem
• Closures can be buttons or zippers, thread loops, snaps just about any kind of closure will work
These Fabrics Are Suitable For:
Jackets, vests, straight dresses or skirts, narrow pants with flat front styling. Patterns requiring pleats should be avoided because they increase bulk and make the wearer look bulky. Brocades are great for home décor items such as pillows.
For information about the notions, tools, and equipment required to complete a sewing project, click here to view the sewing notions home page.
For more information about this family of fabrics some great references are:
Claire Shaeffer's Fabric Sewing Guide
More Fabric Savvy by Sandra Betzina
For some interesting history of brocade fabric click here on the link to fashion-era.com
To continue exploring information about fabrics follow the links below.
Burlap Fabric
Fabric Facts
Fabric Content
Return to Sewing Fabric Home Page
Return to Sewing Home Page