Jacquard Fabric – Elegance In A Weave Fabric
Jacquard fabric is considered a weave fabric produced on a jacquard loom. Jacquard fabric is also a member of the silk family, in particular the light weight silks. Due to the complexity of the designs created on the fabric, these fabrics can be quite expensive. Other light weight silks include Crepe de Chine, charmeuse, silk organza, georgette chiffon and light weight satin, just to name a few. Jacquard is considered relatively easy to sew if one follows the recommendations for sewing.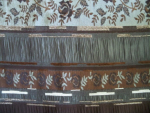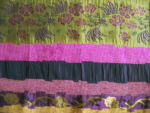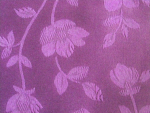 Fabric Characteristics:
• Comfortable to wear
• If the fabric is firmly woven it does not fray badly
• Most light weight silks are easily marred by machine needles, ripping and pins
• Puckered seams and skipped stitches can sometimes be a problem
• Slippage of seams can be a problem at stress points
• Light weight silks such as jacquards can be easily damaged by pressing improperly
Working With These Fabrics Requires:
• Sewing machine needles recommended are 60/8-70/10 sharp or universal
• Hand sewing needles sizes 9-10 are recommended
• Sewing machine settings of stitches 1.75-2 mm are recommended
• Sewing machine feet recommended are the wide straight-stitch and roller foot
• Thread recommended is all-purpose cotton, light weight embroidery cotton, extra fine cotton/polyester blend, for top stitching all-purpose embroidery cottons or silk, for hand basting cottons or silk, for hems and finishing mercerized cotton is recommended
• Equipment and tools recommended are sharp scissors, sharp shears or serrated shears, rotary cutter and mat, pins, small safety pins, just to name a few
• Markers recommended are chalk, tracing wheel or tracing carbon
• Interfacings recommended are self fabric, light weight sew-in to name a few
• Seams and Hems recommended are French seams, double-ply, topstitched are a few, hems recommended are plain blindstitch, machine rolled hem, hand rolled hem are just a few
• Edge finishes recommended are self-fabric and bias facings, bias, bindings, bands, casings, and ribbons
• Closures recommended are light weight zippers and buttons
These Fabrics Are Suitable For:
Depending on the fabric light weight silks are suitable for soft blouses, tailored shirts, skirts, dresses, lingerie, pants, jackets, and light weight coats.
For information about the notions, tools, and equipment required to complete a sewing project, click here to view the sewing notions home page
For more information about this family of fabrics some great references are:
Claire Shaeffer's Fabric Sewing Guide
To see some interesting uses of the fabrics represented by these swatches, click here to visit the sewing gallery

For more interesting information about jacquard fabric click here on fabrics-manufacturers.com and for information about the jacquard loom click here on Wikipedia.org
To continue exploring information about fabrics follow the links below.
Lace Fabric
Fabric Facts
Fabric Content
Return to Sewing Fabric Home Page
Return to Sewing Home Page