Lace Fabric – The Exquisite Lace Family!
Lace fabric is an exquisite decorative fabric that comprises its own family. Lace fabric can be made from a variety of fibers such as nylon, polyester, linen, wool, cotton, silk and rayon. Although more fragile than other materials, if handled carefully, lace can be relatively easy to sew.
The lace family consists of such interesting names as: Alecon, Allover, Burano, Chantilly, Cluny, Filet, Guipure, Metallic, Re-embroidered, Schiffli (also known as Breton), Tape or Val.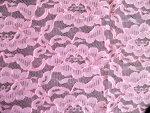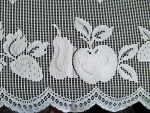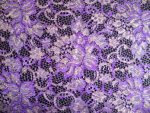 Fabric Characteristics:
• All lace is transparent
• Most do not ravel
• They do not have a grainline, but has more stretch in the width than the length
• Some have no selvage
• Most have horizontal and vertical designs which must be matched the same way that plaids must be matched
• Many have a one way design and require a nap layout
• Fabric scraps from lace can be used for appliqué projects
• Many shrink
• Frequently become softer when washed or dry cleaned
• Easily damaged by hot irons and improper pressing
• Some tear easily
Working With These Fabrics Requires:
• Sewing machine needles recommended are 60/8-80/10 sharp or universal
• Hand sewing needles recommended are sizes 5-10
• Sewing machine settings recommended are 1.5-2 mm, with light evenly balanced tension light presser foot pressure
• Sewing machine presser feet recommended are wide straight stitch, roller and embroidery
• Thread recommended is good quality cotton or polyester, for delicate laces fine embroidery cotton, extra fine cotton/polyester blend, all-purpose cotton; for coarse laces all-purpose cotton, polyester or cotton/polyester blend
• Layout recommended is nap, single layer, right side up
• Marking tools recommended is thread tracing, tailor tacks, safety pins
• Tools and equipment recommended consists of sharp scissors, sharp shears, safety pins, fabric weights
• Interfacings are rarely used, when used tulle or net is recommended
• Seams and hems plain seams, serged seams, French seams, to name a few, for hems of delicate laces plain, unfinished, machine rolled are some and for coarse laces plain, unfinished to name a few
• Edge finishes recommended are fabric or net bindings, bands, tricot facings, net facings, and bias facings
• Closures recommended are buttons and loops, frogs, zippers, hooks and eyes
These Fabrics Are Suitable For:
Lace is recommended for just about any pattern from casual tank tops to wedding gowns, lace is great as an accent fabric for lingerie.
For information about the notions, tools, and equipment required to complete a sewing project, click here to view the sewing notions home page
For more information about this family of fabrics some great references are:
Claire Shaeffer's Fabric Sewing Guide
More Fabric Savvy by Sandra Betzina
For more interesting information about lace fabric click here on Wikipedia.org
To continue exploring information about fabrics follow the links below.
Lame Fabric
Fabric Facts
Fabric Content
Return to Sewing Fabric Home Page
Return to Sewing Home Page