Lame Fabric – Part Of The New Metallics
Lame fabric in the form of tissue lame or stretch lame fabric is part of the new metallics. Precious metals have been woven into fabrics since Bible times. Precious metals such as real gold and silver were used.
Metallic fibers today contain metal, metal coated plastic, plastic coated metal, or metal wrapped yarn. In addition, these fabrics are less expensive, lighter in weight, more flexible, do not tarnish, and are easier to sew. These metallic fibers can be combined with other fibers such as polyester, rayon, nylon, silk, cotton and wool. These fabrics vary in weight to the very light tissue lame and heavy brocades. These fabrics can be knitted or woven.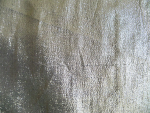 Fabric Characteristics:
• Can dull shears and sewing machine needles
• Can fray and snag easily
• Have a sheen and require a nap layout
• Some metallics can be scratchy
• Silver and brass threads in older metallics tarnish
• Are easily damaged by needle and pin holes
• Require special needles designed for metallics, due to pulls and snags in the fabric
• Easily damaged by heat and moisture
• Some metallics cannot be dry cleaned
Working With These Fabrics Requires:
• Sewing machine needles recommended is 70/10 sharps
• Hand sewing needles recommended are size 7-10
• Sewing machine settings recommended is a stitch length of 2.5 mm
• Sewing machine presser foot recommended is straight stitch foot or a foot with the flattest bottom
• Thread recommended is good quality polyester
• Layout should be with nap double thickness
• Marking tools recommended are fabric markers
• Tools and equipment recommended are sharp scissors or rotary cutter and mat, sharp stainless steel shears, pins, fray retardant, temporary adhesive spray, and fabric stabilizers
• Seams recommended are plain, double-ply, self-finished, taped and tissue stitched
• Hems recommended are plain, hand double-stitched, hand blindstitched, machine rolled hem
• Seam and hem finishes recommended is a serged rolled hem and serged seam finishes
• Edge finishes recommended are fabric and ribbon bindings, bands, ribbings, lining and bias facings
• Interfacings recommended are French fuse or fusible tricot
• Closures recommended are button loops and frogs, buttonholes are not recommended
These Fabrics Are Suitable For:
Lame fabrics are recommended for appliqué, trims, loose tops, and table runners.
For information about the notions, tools, and equipment required to complete a sewing project, click here to view the sewing notions home page
For more information about this family of fabrics some great references are:
Claire Shaeffer's Fabric Sewing Guide
More Fabric Savvy by Sandra Betzina
For more interesting information about lame fabric click here on Wikipedia.org
To continue exploring information about fabrics follow the links below.
Leather Fabric
Fabric Facts
Fabric Content
Return to Sewing Fabric Home Page
Return to Sewing Home Page