Leather Fabric – The Natural Fiber Animal Family Of Fabric By Default
Leather fabric is considered the oldest material used for clothing. Leather fabric is technically not a fabric, but is from an animal or reptile. The hairs are removed and the skin is treated by tanning frequently using a chemical treatment called tannin, this is where the name for the process came from. Tanning, however is not the only way to treat skins, they can also be treated by chromium, oil or alum. The uniqueness about this process is what side of the skin is tanned. When the outside of the skin is tanned it is called leather, when the flesh side or inside of the skin is tanned it is called suede and when wool is left on it is called shearling or Sherpa. As humans we certainly know how to make the most of anything!
The leather family of usable skins consists of: cabretta, chamois, cowhide, deer skin, lambskin, Napa, nubuck, patent leather, pigskin, plonge, python, and shearling.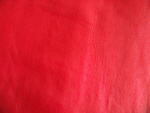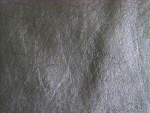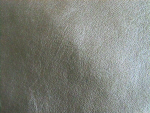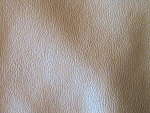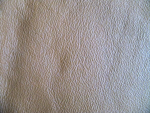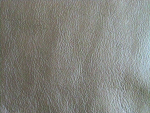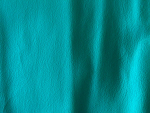 Fabric Characteristics:
• Does not fray and resists tears
• Is windproof and water proof, but can spot
• Sold by the skin, not by the yard
• Easily marred by pins or machine stitching
• Clothing alterations cannot be done on leather
• Cannot be stitched with regular sewing machine needles
• Can stick to the presser foot
• Easily damaged by steam and a hot iron
• May acquire permanent creases if left folded
• Will mildew and stain permanently when stored in humid areas
• Some colors may bleed through or rub off over time
Working With These Fabrics Requires:
• Sewing machine needs recommended are 70/10-110/18, leather, universal, or sharps
• Hand sewing needles recommended are glover's or leather
• Sewing machine settings recommended are a stitch length of 3-4 mm
• Sewing machine feet recommended are the Teflon or roller foot
• Thread recommended is polyester only, since tannin will rot cotton thread, also use polyester thread for top-stitching
• Layout recommended is single layer, right side up
• Markers recommended are fabric pens or pencils, no wax-based chalk because it stains
• Tools and equipment recommended are sharp scissors, rotary cutter and mat, sharp shears, fabric weights, rubber mallet, pins to name a few
• Seams and hem recommended are plain and leather seams to name a few, hems recommended are those that are glued with top stitching, seams and hems finishes recommended is unfinished
• Edge finishes recommended are facings such as leather, fabric and ribbon, also bindings, linings, and bands
• Interfacings should be sew-in, low temperature, and quick fuse
• Linings are recommended
• Underlining is generally not used
• Closures recommended are snaps, eyelets, lacing, button loops, zippers, machine bound button holes and buttons
These Fabrics Are Suitable For:
Leather can be used to sew just about anything, such as tank tops, tunics, slip dresses, shirt-waist dresses, coats, jackets, skirts, pants, jumpers, vests, belts, handbags, and pillows.
For information about the notions, tools, and equipment required to complete a sewing project, click here to view the sewing notions home page For more information about the family of leather fabric some great references are:
Claire Shaeffer's Fabric Sewing Guide
More Fabric Savvy by Sandra Betzina
For more interesting information about leather fabric click here on fabrics-manufacturers.com

To continue exploring information about fabrics follow the links below.
Linen Fabric
Fabric Facts
Fabric Content
Return to Sewing Fabric Home Page
Return to Sewing Home Page