Houndstooth Fabric – A Distinctive Check Design In Black And White
Houndstooth fabric is another distinctive fabric which characteristically has a black and white check design. Even though black and white is characteristic of the fabric, the fabric is beginning to be found in colors other than black and white.
The fabric is considered a check fabric with characteristics of the plaids type of fabric, with a regular pattern.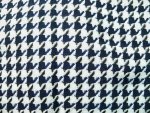 Fabric Characteristics:
• The fabric must be matched
• Has a one way nap or one way pattern
• Requires a nap layout
• The woven design looks like a four pointed star
• Has natural stretch
• The fabric is soft
• Usually made from wool with a broken twill weave
Working With These Fabrics Requires:
• Sewing machine needles depend on the fabric weight and structure
• Sewing machine settings depend on the fabric weight and structure
• Sewing machine feet recommended are the even feed foot, roller and zipper foot
• Thread recommended is cotton, polyester, cotton/polyester blend
• Layout required is with nap
• Tools and equipment recommended is sharp scissors, sharp shears, rotary cutter and mat, safety pins
• Marking recommendations are dual tracing wheel and carbon, temporary marking pens, chalk
• Seams and hems recommended is plain just to name one
• Closures can be all types
These Fabrics Are Suitable For:
Recommended for suits and other uncomplicated designs that showcase the fabric.
For information about the notions, tools, and equipment required to complete a sewing project, click here to view the sewing notions home page
For more information about this family of fabrics some great references are:
Claire Shaeffer's Fabric Sewing Guide
More Fabric Savvy by Sandra Betzina
For more interesting information about houndstooth fabric click here on Wikipedia.org
To continue exploring information about fabrics follow the links below.
Interlock Knit Fabric
Fabric Facts
Fabric Content
Return to Sewing Fabric Home Page
Return to Sewing Home Page