Plaid Fabric – The Distinctive Plaid Family Of Fabrics
Plaid fabric is distinctive enough to have its own fabric family. Plaid fabric can be knitted, woven or printed on the fabric. The plaid can run either lengthwise or crosswise. Plaids fall into two categories, either even or uneven plaids and this depends of the color bars that make up the plaid design.
The plaid family consists of balanced plaids, even, repeat, unbalanced, uneven, uneven and balanced crosswise, uneven and balanced lengthwise, and plaids which are uneven and balanced in both directions.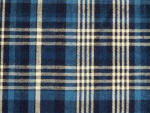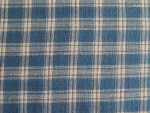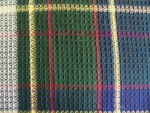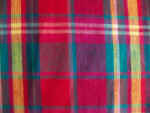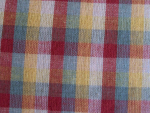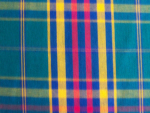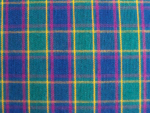 Fabric Characteristics:
• They must be matched
• Some have a nap or one-way pattern
• Some are often off grain and cannot be matched well
• They can be knitted, woven, or printed on the fabric
• They may require a nap layout
Working With These Fabrics Requires:
• Sewing machine needles recommended are dependent on the fabric weight and structure, 80/12 universal is one recommendation
• Sewing machine setting recommended depends on the fabric weight and structure, one stitch length recommended is 2.5 mm
• Sewing machine feet recommended are the even-feed, roller and zipper foot
• Thread recommended is all-purpose cotton, polyester, and cotton/polyester blend for most fabrics, for silks cotton is recommended
• Marking tools recommended are the tracing wheels, carbon, temporary marking pens, chalk
• Tools and equipment recommended sharp scissors, rotary cutter and mat, sharp scissors, safety pins
• Seams recommended are plain, lapped, piped, tucked to name a few
• Edge finishes recommended plain hems, bias and self-fabric facings, bindings and bands
• Closures recommended are all types
These Fabrics Are Suitable For:
Plaids are recommended for simple, uncomplicated designs that showcase the fabric.
For information about the notions, tools, and equipment required to complete a sewing project, click here to view the sewing notions home page
For more information about this family of fabrics some great references are:
Claire Shaeffer's Fabric Sewing Guide
For more interesting information about plaid fabric click here on nyfashioncenter.com
To continue exploring information about fabrics follow the links below.
Polyester Fabric
Fabric Facts
Fabric Content
Return to Sewing Fabric Home Page
Return to Sewing Home Page