Canvas Fabric – Not Just For Sailboats
Canvas fabric was once used mainly for sails on sailboats and was a catchall term for sails made of a variety of stiff, heavy durable fabrics made of hemp or linen. Canvas is not just for sailboats anymore. Canvas fabric today is a durable, firmly woven member of the cotton family of fibers. The fabric structure or the weave is that of the twill weave family of fabrics. Canvas follows the characteristics and sewing recommendations of a similar fabric, denim, which is also a twill weave fabric.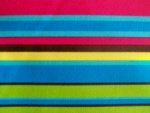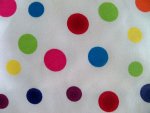 Fabric Characteristics:
• A densely woven fabric
• Has a twill weave and may require a nap layout
• Skipped stitches are sometimes a problem
• Can be bulky
• Difficult to ease
• Can be softened by preshrinking
• Subject to mildew when used outdoors
Working With These Fabrics Requires:
• Sewing machine needles should be sizes 100/16 or 110/18 sharps
• Hand sewing needles recommended is a glover's needle
• Sewing machine settings are a stitch length of 3.5mm
• Sewing machine feet recommended is the standard foot
• Thread should be upholstery thread on top
• Tools and equipment recommended is sharp scissors, sharp shears, rotary cutter and mat, pins, pattern weights
• Layout should be without nap, single layer
• Marking tools can be marking pencils
• Hems recommended are machine hemmed or serged
• Seams finishes recommended are serged or pressed open and clipped
• Pressing recommended is a hot steam iron on setting used for linen
• Closures recommended are oversized grommets, snaps and velcro
These Fabrics Are Suitable For:
Canvas is too heavy for clothing, and is more suitable for handbags, duffle and tote bags and other soft luggage, home décor projects, such as upholstery, seat covers, window coverings, folding screens, floor coverings, tents, awnings and director's chairs.
For information about the notions, tools, and equipment required to complete a sewing project, click here to view the sewing notions home page.
For more information about this family of fabrics some great references are:
Claire Shaeffer's Fabric Sewing Guide
More Fabric Savvy by Sandra Betzina
All About Cotton – Julie Parker's Fabric Reference Series
For more interesting information about canvas fabric click here on Wikipedia.org
To continue exploring information about fabrics follow the links below.
Chenille Fabric
Fabric Facts
Fabric Content
Return to Sewing Fabric Home Page
Return to Sewing Home Page