Chenille Fabric – The Tufted Pile Family of Fabrics
Chenille fabric is a member of that family of fabrics called tufted pile. To create chenille, tufts are raised on the surface of the fabric to create a raised design. Tufted fabrics such as chenille are reasonably cheap and easy to sew. Chenille fabric is a soft fuzzy fabric, which can stretch with usage. Some of these fabrics have both sides that look the same and others have a more obvious right and wrong side of the fabric. Some fabrics can also shed, which another good reason to prewash the material before use.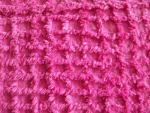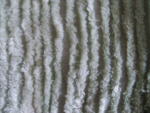 Fabric Characteristics:
• Shrinkage possible so fabric should be washed before cutting
• Due to fabric having a pile should be cut with a nap layout
• Have a raised tufted surface
• Due to raised surface some areas may be bulky
• Due to the pattern, the fabric must be positioned properly to reflect the pattern correctly and attractively
Working With These Fabrics Requires:
• Sewing machine needles should be 80/12-90/14 sharp or universal
• Hand sewing needles should be sizes 7-9
• Sewing machine settings should be a stitch length of 2-2.5 mm and a looser tension
• Sewing machine feet should be the walking foot or the Teflon foot
• Thread should be all-purpose cotton, polyester and cotton/polyester blend
• The layout should be napped, single layer, with right side up
• Tools and equipment required are sharp scissors or rotary cutter, sharp shears, pins, safety pins
• Interfacing are rarely used, but if used should be fusible tricot
• Seams and Hems should be serged, zigzagged, double stitched or multi-stitched
• Closures used should be corded button holes, faced button holes or bound button holes
• Pressing should be with a fluffy towel covering the right side of the fabric
These Fabrics Are Suitable For:
Chenille is great for bathrobes and bedspreads. Other uses can be as vests or jackets, big shirts or loose tops. Also good for swimsuit cover-ups, and lounge wear.
For information about the notions, tools, and equipment required to complete a sewing project, click here to view the sewing notions home page
For more information about this family of fabrics some great references are:
Claire Shaeffer's Fabric Sewing Guide
More Fabric Savvy by Sandra Betzina
For more interesting information about Chenille fabric click here on Wikipedia.org
To continue exploring information about fabrics follow the links below.
Chiffon Fabric
Fabric Facts
Fabric Content
Return to Sewing Fabric Home Page
Return to Sewing Home Page