Felt Fabric – Another Unique Fun Fabric!
True felt fabric is a unique fabric, usually made of wool, fur, mohair, cotton, rayon or synthetic fibers. Felt is a nonwoven, non knitted fabric. Felt fabric is made by pounding, compressing, shrinking, and fabric is felted by applying moisture, temperature change, abrasion, and pressure. What this means is that the fibers are pressed or bonded together instead of woven together. It can also be said that the fibers are matted together. This is definitely a different way to create a fabric. So there are two types of fabric, one that is a true felt and those that are turned into felted fabrics. These fabrics are inexpensive and can be used to create some truly outlandish and fun designs.
Those fabrics that are felted consist of boiled wool, wadmal, loden, melton, fleece, duffel, and frieze. These are the fabrics that are created by applying moisture to shrink them.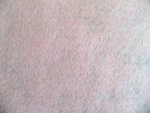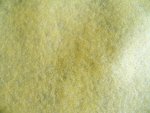 Fabric Characteristics:
• Does not ravel
• Easy to sew
• Difficult to dry clean
• May tear under strain
• Cannot be mended easily
• Does not have good recovery when made into garments and may bag at different spots such as the knees, elbows and seat
• Easily damaged by steam
• Some have a nap
Working With These Fabrics Requires:
• Sewing machine needles recommended are sizes 70/10-80/12
• Hand sewing needles recommended are sizes 6-9 universal
• Sewing machine settings recommended are a stitch length of 2.5-3 mm with the presser foot pressure adjusted as needed
• Sewing machine pressure foot is the standard foot
• Thread recommended is all-purpose cotton, polyester and cotton/polyester blend
• Layout can be any direction double or single layer
• Tools and equipment recommended are sharp scissors, rotary cutter and mat, sharp shears, pins, safety pins, glue stick
• Marking tools recommended are temporary marking pens and soap slivers
• Seams recommended are plain, pinked to name a few
• Hems recommended are those cut with pinking shears or raw edges are acceptable
• Edge finishes recommended are braid, bindings, unfinished, self-fabric and raw edge facings, pinked edges and wrong-side out hem
• Interfacings, underlinings, and linings are generally not used, but if interfacing is desired can be any weight to give added stiffness to the fabric
• Closures recommended are faced button holes
These Fabrics Are Suitable For:
Felt fabric is a fun fabric that is suitable to outlandish designs. These fabrics can be used for one of a kind jackets, coats, capes, ponchos, vests, sportswear, skirts, hats, bags, children's clothes. Acrylic felt is typically used for craft projects, stuffed animals and scarves. They can also be used for appliqués for quilts and for wall hangings.
For information about the notions, tools, and equipment required to complete a sewing project, click here to view the sewing notions home page
For more information about this family of fabrics some great references are:
Claire Shaeffer's Fabric Sewing Guide
More Fabric Savvy by Sandra Betzina
For more interesting information about felt fabric click here on Wikipedia.org and click here on LovetoSew.com
To continue exploring information about fabrics follow the links below.
Flannel Fabric
Fabric Facts
Fabric Content
Return to Sewing Fabric Home Page
Return to Sewing Home Page