Rayon Fabric – The Oldest Manufactured Fiber
Rayon fabric is made from cellulose fibers, a natural plant fiber. It is actually called a regenerated fabric, made from a solution of cellulose wood pulp. Rayon fabric is actually known as the oldest manufactured fiber. Rayon was called artificial silk when it was introduced in 1889.
Rayon is frequently used to make linen-like fabrics, silk-like fabrics, cotton-like, lining fabrics, and challis. Rayon is used to make all kinds of apparel.
Other cellulose fiber fabrics include lyocell, acetate, triacetate, corn and bamboo.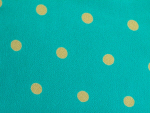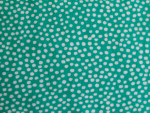 Fabric Characteristics:
• Absorbent
• Comfortable
• Soft
• Durable
• Economical
• Easy to dye
• Ravels badly
• Fades and deteriorates when exposed to light both natural and artificial for long periods of time
• Susceptible to mildew and chemicals, but resistant to moths
• Does not accumulate static electricity
• Is highly flammable
• Wrinkles easily and may shrink
• Is easily damaged by a hot iron
• It loses body when machine dried
Working With These Fabrics Requires:
• Sewing machine needles recommended are 70/10-80/12 universals, sharps, and stretch depending on the fabric weight
• Hand sewing needles recommended are sizes 5-10
• Sewing machine settings recommended is a stitch length of 2.5 mm
• Sewing machine foot recommended is the standard presser foot
• Thread recommended is all-purpose cotton, cotton/polyester blend and polyester and for topstitching all-purpose, machine embroidery and topstitching thread
• Layout should be without nap, double thickness
• Marking tools recommended are all types except wax, Clo Chalk is also recommended
• Tools and equipment recommended are sharp scissors, rotary cutter and mat, sharp shears, pins, spray starch, stabilizers
• Seams recommended are those that are serged
• Hems recommended are serged
• Seam and hem finishes recommended are serged, zigzag or multi-stitch zigzag
• Edge finishes recommended are facings, bindings, bands, casings, ribbings
• Interfacings, linings, and underlinings depend on the fabric weight, garment type, structure, and care requirements
• Closures recommended are machine buttonholes, buttons and loops, decorative snaps and zippers
These Fabrics Are Suitable For:
Rayon is suitable for full pants, full and A-line skirts, semi-fitted or full dresses, blouses, coats, lingerie, sportswear, suits and ties. Rayon is also used in nonwoven interfacings and hospital gowns.
For information about the notions, tools, and equipment required to complete a sewing project, click here to view the sewing notions home page
For more information about this family of fabrics some great references are:
Claire Shaeffer's Fabric Sewing Guide
More Fabric Savvy by Sandra Betzina
For more interesting information about rayon fabric click here on Wikipedia.org and here on wisegeek.com
To continue exploring information about fabrics follow the links below.
Sateen Fabric
Fabric Facts
Fabric Content
Return to Sewing Fabric Home Page
Return to Sewing Home Page