Gingham Fabric – A Member Of The Plain Weave Fabrics
Gingham fabric is one of the easiest fabrics to recognize. Gingham fabric is a member of the family of fabrics referred to as plain weaves; their design puts them under the group of fabrics referred to as checked fabric. Gingham is also a member of the larger cotton family, which is the basic fabric that gingham is constructed of. Gingham is similar to plaids, and the suggestions for handling and sewing the fabric are those for plaids.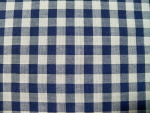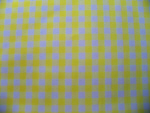 Fabric Characteristics:
• The fabric design must be matched
• Some of these fabrics have a nap or one-way pattern
• If the fabric is off grain, the fabric cannot be matched satisfactorily
• May require a nap layout
Working With These Fabrics Requires:
• Sewing machine needles recommended is 70/10 universals and sharps
• Sewing machine settings recommended are 1.8-2.5 mm
• Sewing machine feet recommended are standard or flat fell foot
• Thread recommended is good quality cotton
• Layout should be without nap, double thickness
• Tools and equipment recommended are sharp scissors or rotary cutter and mat, sharp shears, safety pins
• Markers recommended should be fabric markers and tracing wheel
• Seams and hems recommendations are plain seams, for edge finishing plain hems, facings should be bias or self-fabric, also bindings or bands
• Closures recommended are all types
These Fabrics Are Suitable For:
Gingham is recommended for home décor items such as curtains, also for handkerchiefs, for lightweight shirts and blouses, as well as summer dresses, aprons, linens, and I especially like the fabric for quilting.
For information about the notions, tools, and equipment required to complete a sewing project, click here to view the sewing notions home page
For more information about this family of fabrics some great references are:
Claire Shaeffer's Fabric Sewing Guide
More Fabric Savvy by Sandra Betzina
For more interesting information about gingham fabric click here on Wikipedia.org
To continue exploring information about fabrics follow the links below.
Herringbone Fabric
Fabric Facts
Fabric Content
Return to Sewing Fabric Home Page
Return to Sewing Home Page